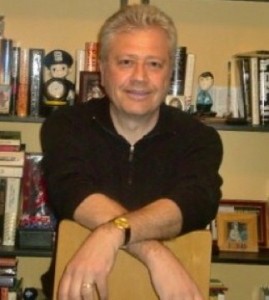 Vincent Casale was born in East Harlem, New York and grew up in Flushing, Queens. He attended Hillcrest High School in Jamaica. While his favorite classes were those pertaining to the arts, his true love were those which included theater, novel writing and television history classes. Upon graduation in 1977, Casale decided to forego college to follow in the so-called "family business" and became an Expeditor for Movie-Labs. He also enjoyed such employment stints as a bartender in New York's infamous Penn Station and as a driver for a local car service.
In 1984, after years of indecisiveness, he proudly joined the ranks of the NYPD; becoming the first to do so in his family. He spent the majority of his career patrolling the streets of Queens. In 1989, Casale was awarded his dream assignment by being transferred to the NYPD's Movie-TV Unit. Having once aspirations of becoming an actor and enjoying a true passion for films most of his life (He grew up watching old black & white movies as a kid) this opportunity was nothing short of a dream come true.
Casale's exposure to the world of New York Street Scene film making and the actors and actresses that make up this cherished society would become the basis for his first book, a memoir entitled, The Coparazzi. His recollections and tales of his personal contact with the many film stars of yesterday and today prove to be entertaining and absorbing as well.
Vincent Casale retired from the NYPD in 2004 as a patrolman. He resides on Long Island with his wife and three children.
Learn more about author Vincent Casale and his writing at his website, blog, and Facebook page.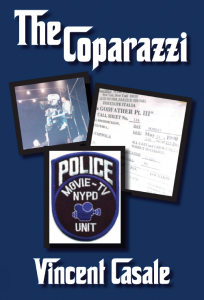 The Coparazzi
In 1989 Patrolmen Vincent Casale was transferred to his dream assignment, The NYPD Movie-TV Unit. The elite unit employed a limited number of police officers whose responsibility was to assist the motion picture industry while they rolled cameras on the streets of New York City. Officer Casale found himself smack in the middle of New York film-making. Lights! Camera! Action! Movie Stars! As a lifelong film fanatic he was over the moon! But were the stars in his eyes too bright?
This title is available from Amazon or Barnes and Noble.