Today we're pleased to announce Dick Waters as the winner of the Indies Unlimited weekly Flash Fiction competition.
The winning entry is rewarded with a special feature here today and a place in our collection of winners which will be published as an e-book at year end.
Congratulations to Dick, and thanks to everyone who participated – excellent entries! Now, without further ado, here's the winning entry: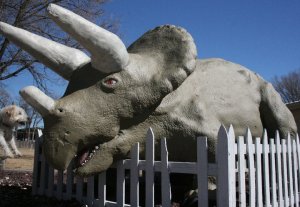 Loco Location
by Dick Waters
However, that's not the worst part.
Our dog is spending afternoons next door. Suzy is our Queensland Heeler mix pet dog. Given the chance she will herd anything that moves. However, she has been acting strangely recently and she has gained considerable weight.
The vet confirmed her weight increased thirty pounds. The vet's comment was that it isn't fat, but muscle mass. She was curious and asked what I was feeding her. I didn't lie when I told her she was snacking on things lately.
What I didn't tell her was that she was snacking next door on who knows what? I see some very strange animals next door. One of them, resembling a Rhino, even helps Suzy to get into her pen. I couldn't believe my eyes the first time I saw this strange relationship. Now, I watch with amusement as Suzy digs on our side of the fence and Tiny paws at the other.
Once on the other side, Suzy herds Tiny in the direction of the barn. Later, Tiny heads back toward the hole with Suzy trailing and moving much slower.
I've done a check on my neighbors and learned they are genetic scientists studying human-growth hormones. It was reported they were using small wild boars for their experiments.
Now, when I ask Suzy if she wants her supper, instead of barking, she rolls and snorts instead.
I wonder two things; what she is snacking on, and whether they will report their study results.