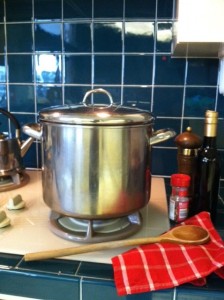 Stella leaned forward eagerly at the sound of the sizzling onion, celery and carrots. The mouth-watering smell wafted out of the stockpot, hanging in the air like a delightful promise. It was their weekly day together and Nona was teaching her how to make Italian wedding soup. No one could make soup like Nona. Nona called this making the mirepoix, soffritto, or "The Holy Trinity" as Emeril Lagasse called it.
"Yesterday I make the stock, the chicken kind I show you last week. Today we make the meatballs and the soup. Your mama will come by after work to have dinner with us, and the soup is a surprise. This is one of her favorites, from when she was my little girl. I have a surprise for you, too."
Stella stirred the veggies with the old, long-handled wooden spoon Nona always gave her. After the carrots and celery softened and the onions were translucent Nona poured in the stock, a beautiful golden yellow waterfall that soon swirled and bubbled.
"Now we make the meatballs. This is my own recipe. I've never written it down, and your mama wasn't interested in cooking with me. She was good in school, so I let her be. But you, Stella, will carry on our family recipes."
Nona had gone to the butcher and gotten a 1½ pounds of fresh chicken sausage and 1½ pounds of mild Italian sausage. She showed Stella how to push it out of the casings, and they laughed as the casings slipped through their fingers. When the casings were all empty they each took two forks and separated the meat into smaller pieces so that the meatballs would include both types of sausage.
Nona let Stella crack and beat the egg. Stella was careful not to get any shell in the egg, and after beating it a small bowl they combed the egg through the meat with a fork.
"Bene, good cara. Now we add the cheese. Pecorino Romano and Parmigiana Reggiana, freshly grated. Sprinkle and mix, sprinkle and mix. Now we add some freshly ground black pepper, some chopped flat Italian parsley, a teaspoon of garlic powder and finally plain breadcrumbs, just enough to form the small meatballs. Now we roll."
The two chefs, the little one on a step-stool, rolled the meat into small 1½ inch meatballs and placed them on two baking sheets that went into a preheated oven set to 325 degrees.
The front door banged open, and there was Stella's mama, looking pretty and smelling divine. Stella would later learn it was the rich scent of Chanel Number 5, and she could never smell that scent without going back to thoughts of Mama.
After a hug and a kiss Mama took off her high heels, donned an apron, and came into the kitchen to slice the crusty loaf of Italian bread they would eat with the soup. She also chopped the dill that would go into the soup momentarily. Mama buttered a piece of bread and placed the loaded basket in the center of the kitchen table. She put the red pepper flakes, a last minute fillip, next to the bubbling pot of soup on the stove.
Almost immediately the conversation of the two older woman changed to Italian and Stella got down off her stool to get a drink of water. Mama complained.
"She doesn't need to see him now. He's been gone from our lives for two years and I don't need him confusing her. He's never been a father to her, just heartbreak to me."
"But he's her father. He has a right to see her. She needs to know him. He's not a monster."
"He has no rights! He gave them up the night he left."
"The night you kicked him out, cara."
There was silence as both women turned their eyes away from each other, realizing Stella was still in the room. Did she understand what was being said? Surely the bambina didn't speak Italian!
Stella pretended to look out the window at the squirrel balancing upside down under the birdfeeder. She and Nona always laughed at how determined she, the momma squirrel, was to get to the sunflower seeds. Nona said it was because a mommy would always do what was necessary for her babies. Sometimes the daddies left, but the mommies always stayed.
"Luckily, Stella doesn't know what we're saying. She won't understand my position. I'm just protecting her."
Nona got the bag of spinach out of the refrigerator and rinsed it in the sink, picking out the mushy leaves. The timer went off and she moved to the oven to take out the lightly browned meatballs. Nona suddenly looked across the kitchen, catching Stella's eye in the reflection in the glass.
"Why don't you ask her?"
"Ask her what?"
"If she wants to see her father."
Mama banged the bread knife down on the counter.
"You're ridiculous. And you're interfering. But, just to settle this I'll ask her."
Stella's mama sat down at the kitchen table with the glass of red wine Nona had poured for her. She took a big mouthful, following Stella's eyes to the birdfeeder where the mama squirrel was making a mess as she hunted for sunflower seeds.
"Did you have a nice day with Nona, honey?"
Stella turned her head away from the feeding frenzy. She looked at her Mama, whom she loved more than anything. Mama looked tired. She'd heard her cry at night, and hoped that she hadn't done anything bad to make her sad.
"Yes, mama. Nona showed me how to make meer-a-pwa, and so-fri-to."
Mama laughed.
"Perfect pronunciation, my sweet. Are you happy, Stella? Do you love me?"
"Of course, mama. I love you. And Nona, too."
Mama took another big mouthful of the Zinfandel. Ok, she thought, here goes.
"We don't talk about him, but your father would like to see you. How would you feel about that?"
Stella put her hands in her lap. What was the right thing to say? The mama squirrel stayed, the daddy squirrel left. But, did her daddy really leave on his own? That's not what Nona said.
"Does my father love me?"
Tears filled Mama's eyes as she looked at her child.
"Of course, he loves you a lot. Our argument has nothing to do with you."
"Does my daddy still love you?"
Mama looked at Stella. Such a beautiful child with her golden ringlets tied back in a ponytail. Her father's big brown eyes stared back at her.
"He says he does. He did a bad thing, and wants me to forgive him."
"Did he say sorry?"
"Sometimes you have to say more than sorry."
Stella thought about this. Nona wasn't in the kitchen and there was no one to help her with her answer.
"If he really means sorry that's different, mama. Maybe you should talk to him, too."
Mama reached out for Stella's little hand, exhaling the deep breath she had been holding. She didn't know if she could ever get over the infidelity, but perhaps it was worth trying.
"So, darling girl, you want to see your father."
"Yes, mama."
Nona had come back into the kitchen. She had changed into a Sunday dress, combed her hair and was wearing lipstick.
"Nona, you look pretty! Why are you so dressed up?"
The doorbell rang.
---
Nona's Wedding Soup
Ingredients:
For the meatballs:
1 package chicken sausage
1 package mild Italian sausage
2/3 Vigo plain breadcrumbs
2 tsp. garlic powder
3 tbsp. chopped fresh parsley
¼ cup Romano cheese
¼ cup Parmesan cheese
1 egg, lightly beaten
Freshly ground black pepper
Kosher salt
For the soup:
3 tbsp. olive oil
1 cup minced Vidalia onion
1 cup diced carrots
¾ cup diced celery
8 cups plus homemade chicken stock
½ cup good dry white wine
1 box ditalini pasta
¼ cup minced fresh dill
7 oz baby spinach, washed and trimmed
3 dashes of red pepper
To make the meatballs, mix the sausage meat by separating with two forks. Add the beaten egg and wet evenly. Sprinkle and mix both cheeses through the meat, add the parsley, garlic powder, salt and pepper. Add the bread crumbs last, making sure you can roll a nice little meatball without the meat sticking to your hands. Place the 1 – 1 ¼ inch meatballs on a parchment lined baking sheet and bake in a preheated oven at 325 degrees until lightly golden brown.
Put a pot of salted water on for the pasta. Heat the olive oil in a separate stockpot and cook the carrots, onion and celery until softened, about 8 minutes. Add the chicken broth and the white wine. When the water boils, add the pasta to the separate pot of boiling water and cook to al dente. At the same time add the dill and meatballs to the chicken broth. Simmer. Dump and drain pasta, add the spinach to the soup. Place pasta in the bottom of the soup bowl and ladle the soup on top. Serve with grated Parmesan cheese and crusty Italian bread. Enjoy!
Note: More than one source was consulted for this recipe among them Annie's eats.wordpress.com and The Barefoot Contessa: Back to Basics by Ina Garten. Please check out their other wonderful recipes.
*      *      *      *      *