Today, we feature a sneak peek of Thomas M. Sullivan's humorous memoir, Life in the Slow Lane.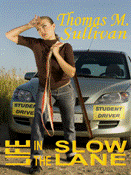 Being an instructor for a private driver's ed company sounded like the launch of a career that would last a lifetime. Not! During his short stint in the instructor's seat, Sullivan learned more than he wanted about poorly maintained cars, calm kids with angry parents, inefficient efficiency campaigns, too-rapid business expansion, and suburban angst. Oh, yes, and a bit about mustaches. An irreverent account of one man's descent from hope to a struggle to escape the chaos of subprime suburbia, Life in the Slow Lane celebrates the humor, resolve, and intelligence teenagers use to survive the dysfunctional world their elders have created.
Life in the Slow Lane is available from Amazon.com.
Here is an excerpt from Life in the Slow Lane:
I'm driving down the road with two students when I see one of our company cars up ahead. I'm not sure who is instructing, but it's probably Thomas. I abandon my route for the moment and have my student turn each time Thomas does.
Five minutes into this tailing, my driver asks, "Are we following that car?"
"Yup," I say, "it's one of ours. You two want to have some fun?"
"Sure," the driver says.
Her sister in the back keeps quiet. Thomas's car turns left and we follow, maintaining our distance.
"Now," I say as we stalk our prey, "you guys know how much you hate getting honked at, right?"
My driver glances over and says, "Definitely."
"Okay, this is a learning exercise," I say. "We're going to practice what not to do by doing it. Should we ever honk at someone just because we're in a hurry?"
"No," the girls respond in unison.
Thomas's car turns right after halting at an intersection. Focused on her slow-speed pursuit, my driver does a California stop, rolling past the stop sign. She does check for cars, so it's safely illegal and I let it slide. We've got bigger fish to fry here.
"What do we do when someone honks at us?" I ask.
The girl in the back doesn't say anything, but her sister up front says, "Ignore them and only do what's safe."
I'm impressed and tell her so. Thomas's car stops at a four-way intersection and we slink up behind it. I glance at the girl driving.
"Okay, honk. But do it gently."
I forget that she's probably never used a horn before. She punches the center of the steering wheel with both hands and it blares out a sharp, extended honk. The girls erupt in laughter and I see a face pop into the side mirror. It's Thomas all right, but I doubt if he knows it's us. Our car lacks the required Student Driver sign on the front, so we probably appear to be just another impatient jerk. A few second later Thomas's car turns right and we turn left. We all agree that his driver handled the situation perfectly.
 _______________________________________