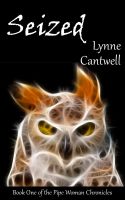 Seized: Book One of the Pipe Woman Chronicles
by Lynne Cantwell
Genre: Urban fantasy
Word count: 64,000
The winter solstice 2012 won't be the end of the world. It will be the beginning of the end….
Naomi has a pretty sweet life. Respected as a skilled mediator, she has an almost uncanny knack for getting people on both sides of a dispute to agree. And her handsome boyfriend Brock has just proposed to her. But a white buffalo calf is bowing to her in her dreams. And who is the Native American man who has been following her around?
Naomi doesn't know it, but things are about to change….
This title is available from Amazon, Smashwords and Barnes and Noble. Continue reading "Book Brief: Seized"