Today we're pleased to announce Dick Waters as the winner of the Indies Unlimited weekly Flash Fiction competition.
The winning entry is rewarded with a special feature here today and a place in our collection of winners which will be published as an e-book at year end.
Congratulations to Dick, and thanks to everyone who participated – excellent entries! Now, without further ado, here's the winning entry: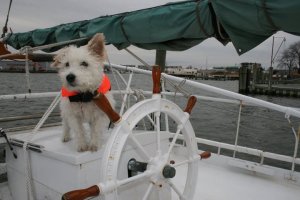 Come About
by Dick C. Waters

"We're going on vacation, and this year you're going. Sorry, there's no pet resort this year." Do they know how annoying they are? I was looking forward to seeing my friends.
I've been dreading this 'boat day' for weeks. 'Salt spray on my snout and the undulation of the ship on the waves.' This is not going to be a vacation for me at all. Besides, didn't they notice I'm not a 'water dog'?
They have been using words I've never heard before; headings, mast, sail, jib, port, starboard, stern, and many others. I'm not waiting; I'm going to be sea sick.
I should have broken my leg again, so I couldn't go. Even a kennel offers more than this sailing adventure. It's too late now. Besides, that cast and the helmet thing were terrible.
Let me think, there were some words I think I recognized. 'Bow' – I can bow. 'Set Sail' – I know how to sit. 'Stay' – yup, I know that too. 'Running' – I love to run. 'Wake' – every day. 'Roll' – I roll for biscuits. 'Coast Guard' – I might be small, but I guard the house. 'Poop Deck' – I'm a natural at that. 'Captain and Mate' – MATE…that's very interesting. Maybe there will be a Poodle, or two, on that French island.
I can see it now – Mr. Pish (aka Sea Dog) meets She Dog. Maybe this will be more fun than I expected. I better not let them see my tail wagging like this.