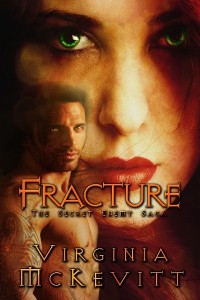 Today, we feature a sneak peek of Virginia McKevitt's fantasy novel, Fracture: The Secret Enemy Saga.
Follow Tegrin, a king's most trusted Assassin as he embarks on a journey to a world he has never been to. His mission. To hunt and return the Couton, an ancient clan who feeds off the memories of others. Fate will change his course when he meets Kristina, a strongwilled young woman whose revenge for her parents murders sends them on a collision course that will change their lives forever.
Fracture: The Secret Enemy Saga is available from Amazon.com, Smashwords and Barnes & Noble.
Here is an excerpt from Fracture: The Secret Enemy Saga: Continue reading "Sneak Peek: Fracture: The Secret Enemy Saga"