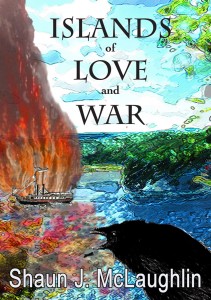 Author Shaun McLaughlin is pleased to announce the release of his new historical fiction book, Islands of Love and War.
Ryan, 18, arrives in colonial Canada at the outbreak of the 1838 Patriot War. Cast out, he becomes an American smuggler amid the grandeur of the Thousand Islands. He falls for a smuggler's daughter, Kate. Ryan is coached by her older cousin Ada on how to capture Kate's heart. Over time, Ada develops feelings for Ryan and he in turn grapples with his attraction to Ada. Circumstances drive Ryan into a web of piracy, secret societies and rebellion. Tugged by the opposing currents of romance and war, Ryan struggles to reconcile his troubled family history, his duty and his heart.
Islands of Love and War was released on July 27, 2012 by Raiders and Rebels Press. It is available on Amazon.com, Amazon UK, and Smashwords.