Author Peter Green is pleased to announce the release of his new mystery novel, Crimes of Design.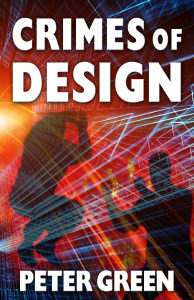 When architect Patrick MacKenna discovers the dead body of his staunchest advocate on the site of his controversial new town project, within hours he's a murder suspect. As attacks against the infrastructure increase, he wonders who, in his nether world of conniving colleagues, land speculators, newsmongers, venal politicians, bored bureaucrats and greedy contractors, is attacking his city, and why?
Aided by Meg Stewart, the developer's project manager, who must overcome her own troubled past to help Patrick and win his heart, MacKenna reluctantly accepts the aid of Assistant U.S. Attorney Adam Reiner and tough, sexy FBI Agent Bobbi Romano to scour St. Louis's underbelly and chase through Mexico and the Mississippi valley to run down the plotters. But Patrick must still confront a ruthless killer to save his city, his family, his career and his very life.
Crimes of Design was released in May 2012 by L&L Dreamspell. It is available from Amazon.com, Amazon UK, and Barnes & Noble.