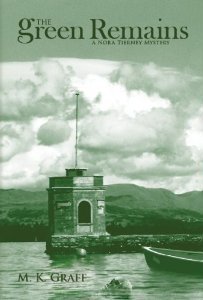 M.K. Graff is pleased to announce the release of her new mystery novel: The Green Remains.
American writer Nora Tierney is living at Ramsey Lodge in England's Lake District, anticipating two life-changing events: the publication of her first children's book and the birth of her first child. Choosing a name and checking proof pages with her illustrator, Simon Ramsey, fill her days—until a lakeside stroll leads her to discover the corpse of the heir to Clarendon Hall.
 When Simon is implicated in the murder, Nora dives headfirst into the investigation to discover the real killer. As the body count rises, Nora and her unborn child face perils she never anticipated in this second Nora Tierney mystery.
The Green Remains was published by Bridle Path Press in April 2012. It is available in print from Amazon.com.