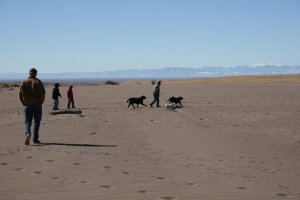 Jim set the plane down safely. That was no small thing with the kind of engine failure they had experienced. Even the animals made it out okay. It might have been better if everyone had died in the crash.
The problem now is that they are 200 miles from anywhere. No provisions. No shelter. No one is looking for them.
Nine hours of walking. The mountains looked no closer. No one was talking anymore. They shuffled relentlessly forward like zombies. If Beth stumbled and fell again, she would be left behind. She would die. No one had the strength to help her up again. No one even had the energy to care.
In 250 words or less, tell me a story incorporating the elements in the picture. The 250 word limit will be strictly enforced.
Please keep language and subject matter to a PG-13 level.
Use the comment section below to submit your entry. Entries will be accepted until 5:00 PM Pacific Time on Tuesday, August 7th, 2012.
On Wednesday morning, we will open voting to the public with an online poll for the best writing entry accompanying the photo. Voting will be open until 5:00 PM Thursday.
On Friday morning, the winner will be recognized as we post the winning entry along with the picture as a feature. Best of luck to you all in your writing!
Entries only in the comment section. Other comments will be deleted.
*      *      *      *      *
Photograph by K.S. Brooks, used here with the photographer's permission. Copying or reproduction of any kind without express consent is prohibited. All rights reserved.
For a more detailed explanation of the contest & its workings, please see the post called "Writing Exercises Return with a Twist" from 12/24/11.
By participating in this exercise the contestants agree to the rules of the contest and waive any and all further considerations or permissions otherwise required for any winning entries to be published by Indies Unlimited as an e-book, showcasing all the photos and with the winning expositions credited appropriately and accordingly.