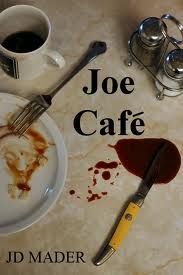 I have officially taken Joe Café out of the madness that is Kindle Select. I went in with reservations, and I came out with my reservations cancelled…or with legal gambling casinos on them. Or something. A lot of electrons or whatever got moved around. No doubt about that.
The deal with Kindle Select is that you give the digital rights for your book to Amazon and they 'promote' your book while it is in the program. You get five free promotion days for every ninety (free for everybody). Prime members can borrow for free at any time. Yadda. Yadda.
I don't like being told what I can and can't do. I also don't like not selling very many books, so I took my laptop to the crossroads and the rest is history.
With the three promotions I did, Joe Café was downloaded for free around 20K times (10K the first time). That's a LOT. If I had 20K nickels I would be a richer man (yes, sad, I know). I didn't get paid for those free downloads, but I still think Select is a good gig.
I don't know if any of those 20K people will read the book. Maybe they are just manic hoarders. Actually, not quite true…I got a few reviews from people who had snatched the book up. It improves your reach. It gets your name and work out there. It proved to me that at least one person in France has a Kindle. More importantly, however, it drives sales.
With every promotion I did, my borrows (which I do get scrilla for) and sales improved. I'm not buying a yacht anytime soon, but I definitely sell more now than I did before Select. Maybe that would have happened anyway. Who knows?
Sales on my other books have been pretty solid, too. I credit Select for that. So, for me, it worked. I think. I still feel a little squirmy about the whole affair, but it worked (I think)….what can I say? So, here are the things I learned.
The key to a successful promotion is to get the sites and blogs that promote free books to feature yours. This means you need lots of reviews…good ones…and you need to have sold some books. Starting with Select on a new work is a bad idea in my opinion. The way I did it, and what I would recommend, is that you let your book do its thing for a while and then throw it to the dogs.
One mistake I made (a few times) was trying to promote my promotion on Twitter and Facebook. It annoyed me. I'm sure it annoyed others. And I don't think it helped that much. Maybe fifty or so downloads, but the vast majority came from the 'free e-book hunters'. What do they want? They want a free book that has some quality reviews. They want to risk their pretend hard-earned theoretical electron money on something with a reputation. They want to have their cake and eat it, too. Or let the cake sit on their Kindle until it gets stale.
The folks at Amazon are very smart. Select is a very smart move…for them. It can be a smart move for you if you have some name recognition and your book has already made some kind of dent in the literary world. I have talked to writers who put their virgin book directly into the program and it did not turn out well.
Basically, this is book prostitution…or stripping…or numbers running. Something. You want to get as many Johns as you can to pay for the book before you start giving the milk away for free. (I got no sleep and have no idea if any of this is making sense.)
I am happy with the way Select worked for Joe Café. It is now out of the rat race. It is the old tired Madame that will manage the others…hopefully it will continue to sell well. The Biker will do its time on Select. Since it is going to be a trilogy, it makes even more sense. Less like prostitution and more like dealing crack. Give them the first one free and then start charging.
Select will help you move books. It will also make you sad. I had people get mad that they had paid for the book only to have it go free weeks later. That is $3.99 they will never get back..the indignity. I HATED the pimping on social media, but I don't think that is necessary, as I said, and I won't be doing much of it next time. It's regrettable that this whole thing is even necessary, but I would do it again. I've been selling more books lately. I sell books overseas. It's fun to watch your book rocket in the rankings during the promos (suck it, Jack London). Yesterday was it, though. Over 48 hours, Joe Café was downloaded almost 4500 times in the US. Almost 100 in the UK. A handful of times in Germany. And once in France. I don't know why Spain and Italy hate me. But from now on, anyone who wants Joe Café will have to take it out to a nice dinner first ($3.99 will almost get something from the value menu).