I discovered something interesting by accident last week. How many times have you said to yourself Damn, I wish I could schedule my Facebook updates so that they'd post at a later time?  Well, guess what? Now you can – at least from your "page" anyway. (I've not seen a way to do it from my personal profile.)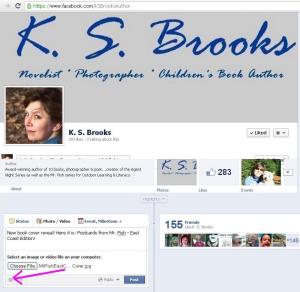 So, go to your page, and start typing in an update to all your fans. You can even upload a photo – anything you want to schedule to post at a later date. The strange thing about this (if you haven't already "set it up") is that once you click the little clock in the bottom left-hand corner of your posting window, you go to another screen, and moving forward will blow away what you've written. Make sure to copy it before you do anything else. NOW, click on the little clock.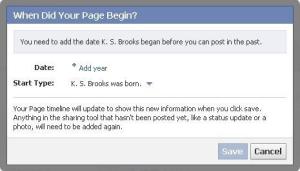 Of course, nothing is quite that simple. If you haven't already, you'll need to enter the date either YOU or your business began. That's your call. Use the drop-down arrow next to "start type" and select which one you want. Then, in the date area, select which year, month, etc.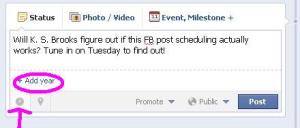 This will make a bunch of updates and erase whatever you had written/uploaded into your post window. So now you need to paste (if you copied as I suggested) or you can just start over. You may have to navigate away from your page and come back to it for the new changes to take effect.  Once you've entered the information you want to share, then click on the little clock and voila! You will get a little screen asking you for year, month, etc. When you're done, click on schedule!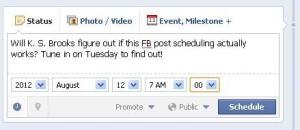 Your status update will disappear and you'll get a confirmation message complete with instructions of what to do if you want to change the timing.
This is a super handy tool if you're going to be traveling. Before you leave, you can  sit for a bit and schedule as many status updates as you like (as far as I know), and not have to worry about keeping people entertained while you're away. Now spiffy up your fan page – because tomorrow we're having a Facebook Like-fest.