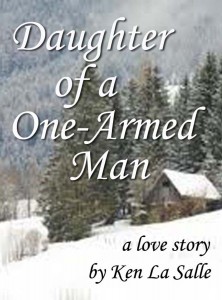 Author Ken La Salle is pleased to announce the release of his new environmentalist romantic fable, Daughter of a One-Armed Man.
After Jackson spends one night with Mari, he'll do anything to find her again. He follows her up the coast of California and a polar bear drives the taxi. Into the forest and through frozen mountains, he talks to God and creatures of faerie alike but the final confrontation is with the wood nymph who is Mari's mother and the father who gave up his arm for the love of his life.
Daughter of a One-Armed Man was released on July 22, 2012. It is available on Amazon.com and Smashwords as an e-book.