Today we're pleased to announce Dick Waters as the winner of the Indies Unlimited weekly Flash Fiction competition.
The winning entry is rewarded with a special feature here today and a place in our collection of winners which will be published as an e-book at year end.
Congratulations to Dick, and thanks to everyone who participated – excellent entries! Now, without further ado, here's the winning entry: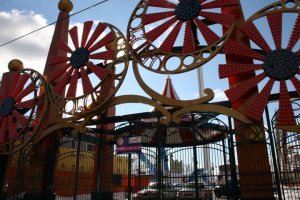 Silent Echoes
by Dick C. Waters
I came here as a kid. Then I brought you here for years. Now, as I look at the remnants of the carnival gates, I wish I could hear your laughter once more.
Maybe I should have brought you up differently…but I didn't. You were the 'All-American' kid. Everyone loved you.
Sitting on this cold and rusty bench, looking at the façade, I wish I could hear your laughter just once more. I couldn't hold my emotions back any longer and people were starting to stare…I don't care anymore…I miss you with all my heart.
This is where we had words that day.
I wonder what you would be like if I had brought you up differently. But, no such luck. I can't hate myself for bringing you up right, but I miss you so much.
I tried to reason with you that fateful day, but you learned your lessons well, and echoed my words back at me. 'I need to do what's right; I owe it to myself, my country, to God, but most of all, to you.'
Oh, how I wish I said things differently.
You joined the Marines. 'Nothing less for you.' You went to that hell hole and you made a difference. You saved your buddies. You're a hero.
So, why do I feel so bad? I listened, straining to hear even the echo of your laughter.
Why did I come here? I really wish I could hear you, and your son laughing.