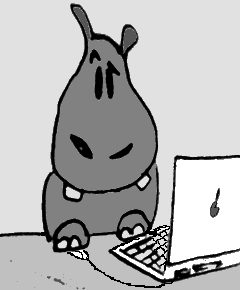 I am no typist. Whether I am working on a manuscript or simply chatting with a supermodel on Facebook, my messages are sometimes as garbled as if I were dictating to a Hippopotamus.
A typo is not merely typing the wrong thing, but happens when you mean to type one thing and instead type something else. Sometimes, this is caused by a keystroke error—you end up with too few or too many of the letters you meant to type because your touch is too heavy or too light; or you were off by one key and typed the wrong letter altogether.
Spell-check is helpful, but it is no panacea. Auto-correct is responsible for some hilarious and embarrassing word replacements. There is simply no substitute for proofreading. Proof however you like. Proof as you go, proof each day's work, proof the whole dang thing when you claim to be done. When you are finished, proof it again.
As a writer reviewing your own manuscript, you suffer from the liability of knowing what you meant to say. That knowledge apparently can cause you to actually see what you meant instead of what you wrote. Your brain seems to take this part of the whole writing gig pretty casually and goes wandering off after the little animals. When we proof, we will catch some errors. When we proof again, we will catch some more errors. When we read aloud, we will catch still more errors.If we could just convince our brains to do it right the first time, we could save a lot of work. Our own Ed McNally wrote a great post on steps to consider when self-editing.
Your own eyes and brain just will not suffice though. This is why it is important to get other eyes on your work. Do the best you can, then get it in front of a few beta readers. Fresh eyes will catch things you missed after going over your own work twenty times. I know, right?
If you'd like to avoid further embarrassment, send the newly re-perfected manuscript to an editor. The editor will catch other errors. I have to add the admonition here that it is important to get an editor whose work you know or whose work was recommended to you by someone you trust. People can gripe all they want about anyone being able to claim to be an author, but the same thing goes for anyone claiming to be an editor. Good work may not come cheap. You have to decide whether you care enough about your book to invest some actual money in it.
The good news is you can pass part of the work off to some other people. The bad news is that it will still be your responsibility to check their work. Your name is on the book. You own every mistake. If you haven't read your book over and over till you are sick of it, you probably aren't anywhere near done.
Even after you've gone through all that, after you publish, there is a good chance a reader will tell you about a typo on page 17 that is now glaringly obvious and was missed by everyone.
You did your best. You took every precaution. That's embarrassing, but it is not the end of the world. One advantage of first publishing your book as an eBook is that it gives you an opportunity to find and correct these errors before you pull the trigger on print production. That is one tool that was not available to our predecessors.
Admittedly, some typos are worse than others. If your book is a bomb-squad training manual that erroneously tells the reader to cut the green wire first, you may have a real problem.
Otherwise, understand it happens to everyone. Get over yourself. Make the correction and move on. It doesn't look like the Typopotamus will be an endangered species anytime soon.