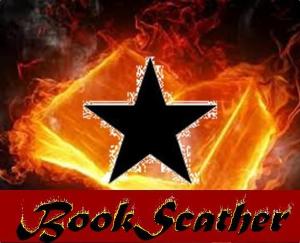 Indie authors sweat bullets over getting reviews and worrying about bad reviews. It turns out we've been going about this all wrong.
Studies show that bad reviews on books by unknown authors actually result in a spike in sales. Who can argue with studies?
Add to this the number of indie author elites bemoaning the state of indie writing. Now look at Amazon and its scorched-earth policy on obliterating suspect favorable reviews while ignoring suspect bad reviews. Amazon is in the process of eliminating ALL author to author reviews.
It's going to be all right, folks. Even in these trying times, one man has the vision and courage to come to the rescue of the indie community—and that man is me.
It is clear that what indies need to move their books is BAD reviews and a LOT of them. Rising to meet this emerging need, I have developed a new service called BookScather.
That's right, now you are no longer at the mercy of readers too timid to leave a review or authors who won't leave a review at all if they didn't like your book. For a nominal fee, BookScather will kick the living crap right out of your book with a package of scorchingly brutal one-star reviews that would make Chuck Norris go running home to mamma crying like a little girl.
I know this cuts against the grain of everything you think you know, but it all makes perfect sense. When you stop to think about it, nobody watched the Gong Show to see the good acts. People are going to be more interested in your book if they have reason to suspect it's a real stinker.
But it's not enough to have bad reviews. Emerging research (which I am just now writing) shows the bad reviews have to be of a particular type to pique a prospective buyer's interest. Sure, you could try it on your own. Go ahead and see if you can get your friends and family to give you some bad reviews. You couldn't get them to give you good reviews. Not only that, but there's a good chance you'd end up with a bunch of amateurish bad reviews like:
"I did not like this book."
"I was seriously disappointed in this author."
"This book sucks."
Be honest—do any of those make YOU want to read the book? Of course not. BookScather uses a patented Simon Cowell-level critique engine that is guaranteed to generate interest in your book. With BookScather, you'll get reviews that include proven interest-generating phrases like:
"…made me regret ever learning how to read."
"…written by a brain-damaged chimpanzee on crack, and not on his best day."
"…Threw my sleeping pills away after the first page of this snoozer."
"…my two-year-old could eat Alphabits and crap a better story than this."
"…to say the plot moved forward at a glacial pace is an insult to glaciers."
"…only thing with which I could not find fault was the central premise of the book, but that is only because the author appears not to have included one."
"…with characters that can only aspire to be two-dimensional."
Yes, with the right kind of bad reviews, you can cry all the way to the bank. I'm proud to make BookScather available for a limited time at the introductory price of just $19.99. For that price, you get twenty hideous one-star reviews that will pay for themselves in no time at all. That's less than a dollar per review!
You've seen what good reviews can do for your book sales—jack squat. It's time to take a different tack. Doesn't your book deserve the very worst that money can buy? Call now. Our operators are standing by.