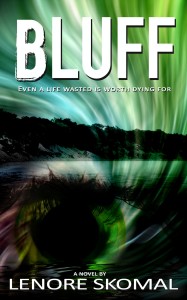 BLUFF
by Lenore Skomal
Genre: Literary Fiction/trangressional fiction
Word count: 90,000
"To the medical world, I was a host body, surviving only to bring a new life into the world. And while I wanted to die more than anything in the world, I never wanted this. No, I never wanted to cease to exist. This was the worst death of all."
Jude Black lives in that in-between, twilight place teetering on death but clinging to life in order to bring her baby into this world. Only she knows the circumstances surrounding her mysterious fall off the bluff that landed her in the hospital being kept alive by medical intervention. Only she knows who the father of her baby is. In this poignantly crafted literary novel, the mystery unfolds and the suspense builds as the consequences of Jude's decisions threaten to reveal everyone's deceptions, even her own. Bluff offers a sensitive look at essential questions such as the value of human life, the consciousness of those in a coma and the morality of terminating life support. At the core is the story of a tragically misunderstood woman who finds peace, acceptance, understanding and even love on her deathbed.
This title is available from Amazon.
Lenore, how did you come up with the title for your book? Does it have any special meaning?
The title BLUFF is the brainchild of my son. It is a double entendre—since the protagonist suffers a fall from a bluff—and everyone in the book is to some degree, living a lie.
Who was your favorite character and why?
Jude, because there's a little bit of all of us in here—and even at her most wretched self, she is redeemed.
Does your book have any underlying theme, message, or moral?
You can't run from your truth.
What would/could a reader or reviewer say about this book that shows they "get" you as an author? 
BLUFF is a superbly written book that pulls us in and won't let us go until we have asked ourselves the tough questions about living, lying, loving and dying.
Give us an excerpted quote from your favorite review of this book:
"If you want a book that doesn't challenge, ends with a "happy ever after", that you will put down and not feel it calling for you to finish it – this is not the book for you. Skillful writing combined with a plot guaranteed to make you think, remember and even question: you must have this book."
Where can people learn more about your writing?
www.lenoreskomal.com