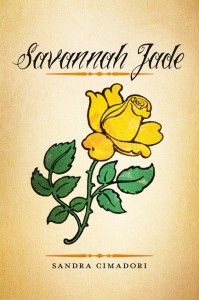 SAVANNAH JADE
by Sandra Cimadori
Genre: Young Adult Novel, Contemporary Fiction
Word count: 46, 272
Trailer trash is what people in Port Regal, South Carolina call seventeen-year-old Savannah Jade Mason and her family. Savannah dreams of doing important, spectacular things, but it is unlikely she ever will given her spectacular ability for getting into trouble. When her mother dies, the family's circumstances sink further into the Lowcountry swamp. Adult responsibilities are thrust on Savannah overnight. She is the only one left to care for her elderly grandmother and little brother – Savannah's older sister is in jail and no good to anyone.
Who can Savannah turn to? Will it be Jonah her rocker boyfriend who she has loved for years, Derek who is anxious to escape his new life and baby, or steady and dependable Luca who she sees only as a friend? The revelation of a family secret will shake her identity to its core, lead her to question all her relationships, and set her on the road to self-reliance.
This title is available from Amazon, Kobo, and Barnes and Noble.
How did you come up with the title for your book? Does it have any special meaning?
SAVANNAH JADE is the name of the main character. I picked the name Savannah because it's a popular name, and it's a big name filled with all the mysterious sexiness of the Gothic south just like that wonderful port city. Jade, I thought, added something exotic and precious.
Who was your favorite character and why?
Savannah Jade is my favorite. She is the quintessential contemporary American girl raised in the south – tough, funny, irreverent, passionate, and angry. She cares deeply about her family, but her family has a scandalous history that she is determined to rise above.
Does your book have any underlying theme, message, or moral?
Many kids struggle in this country. They face adult problems with no money, parents to protect them, or educational opportunities. And since they are kids, they make stupid mistakes until they figure out how to take care of themselves. My theme is about a young woman surviving these obstacles.
What would/could a reader or reviewer say about this book that shows they "get" you as an author?
Several reviewers did "get" me. One talked about the setting of the book, the southern small town atmosphere that restricts Savannah at every turn. Another talked about the symbolism of the tattoo and the permanence of certain decisions that we make in our lives, decisions that remain under our skin forever.
Give us an excerpted quote from your favorite review of this book:
This story was sexy. I don't mean in an erotic sort of way, I mean in that heart-palpitating, hot-and-bothered, teen girl filled with longing and hormones way.
Where can people learn more about your writing?
http://www.sandracimadori.com