Being an indie author can be liberating – but it can also be isolating. Maybe you belong to groups on Facebook, LinkedIn, Goodreads and more. In an attempt to get the word out to more people, you write guest posts for each other's blogs – but in the end, you're really "socializing" in the same circles. How do you expand that?
Author and entrepreneur Cathy Stucker started Blogger LinkUp for exactly this purpose – "to help bloggers get exposure for their content and find content for their blogs." How does it work, you ask? Well, let me tell you, and yes, it's free.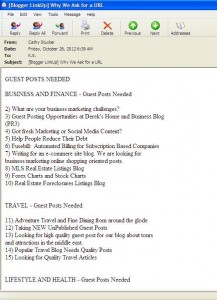 First off, you'll need to go to the Blogger LinkUp (BLU) site and sign up. That's easy and free. Once you sign up, you'll begin receiving emails three times a week (Monday, Wednesday and Friday) with lists of guest posts that are needed and offered, organized by subject. Here's an example of what you'll receive (at left). While you're having your morning coffee, you can quickly peruse the listing, deciding if there are topics there about which you can write, or something interesting you can publish on your blog. The summaries are listed by number and correspond to a longer explanation with blogger contact information further down in the email.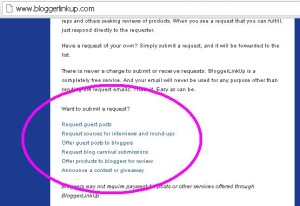 If you're looking for, or offering, something specific, you can go to the BLU site and put in a request. Just go to the bottom of the home page and you'll see a number of different options:
Request guest posts
Request sources for interviews and round-ups
Offer guest posts to bloggers
Request blog carnival submissions
Offer products to bloggers for review
Announce a contest or giveaway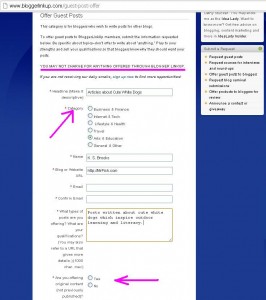 Click on the option you want and you'll be taken to another screen. I'm going to use offering a guest post as an example, so you would click on that option, the third from the top. Once you're on the new screen, fill it out and make sure to select the appropriate category because that's the heading you'll be put under in the email. I tend to scan down to the headings which interest me, so if you're categorized wrong, I'll miss you. Also make sure to mark if you're offering original (not previously published) content. Once you've filled out the form, scroll down, do the Captcha and click "send email" and your request will be on its way.
I've used Blogger LinkUp to offer and request guest blogs with good success. I've also used it to announce giveaways – that's harder to measure because you don't always know where the traffic is coming from on those types of things.
Keep in mind many of these blogs and bloggers specialize in certain subjects, so when writing your articles you'll have to cater to their niche. On the flip side, some of these bloggers write their articles for a living, and they want their guest posts to appear on blogs with high-traffic and visibility. If your blog doesn't have the level of traffic they want, they may not agree to run their article on your blog. Don't be discouraged by that. Eventually you'll find a good fit, and it'll expand your circles. And all for free!