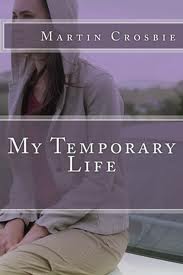 MY TEMPORARY LIFE
by Martin Crosbie
Genre: Romantic/Suspense
Word count: 93,000
It has everything, simply everything-a coming of age, a romance, and a thriller rolled into one delightful read.
From the very first sentence, we're drawn into the harsh Scotland schoolboy world of Malcolm and Hardly. Malcolm's summers in Canada with his mother offer little comfort. He survives by running; running through the streets, running between Scotland and Canada, running from himself and his past.
Flash ahead 20 years. In Canada, Malcolm meets Heather, a woman haunted by an evil secret. When they camp at the Lake at the end of the World, they discover there is nowhere left to run, for either of them.
Like the great 19th century writers (but with a lighter touch), Martin Crosbie takes Malcolm from a life focused on the primary needs of food, sex and basic survival to loftier aspirations. He enters an intangible, often illusory world of evil that requires enormous human faith; and tosses the reader onto a thrilling rollercoaster ride. Mr. Crosbie's deft character-development pen never allows the reader to question Malcolm's choices. He has prepared for this journey since his boyhood days in Scotland. This time, he's not backing down, whatever the cost.
This title is available from Amazon.
Martin, how did you come up with the title for your book? Does it have any special meaning?
Fortunately, the title wrote itself. My previous title was one that I'd carried around for years but as the story progressed it became less and less relevant. This title summed up the protagonist's journey.
Who was your favorite character and why?
Some of the story is factual, so there is a lot of myself in the main character, Malcolm. But, there's also a lot of me in his sidekick, Hardly, too. I enjoyed writing about both of them.
Does your book have any underlying theme, message, or moral?
Yes, it does, and I always like to leave that up to the reader to discover. I'd hate to read a book where I'm trying to find the author's theme instead of being immersed in the story.
What would/could a reader or reviewer say about this book that shows they "get" you as an author?
A reader recently wrote a review. Here's part of it: "I was drawn in by the author's ability to portray his characters so vividly, and yet allow the mystery of who they really are to remain."
What an incredible compliment to me as a writer.
Give us an excerpted quote from your favorite review of this book:
I'm a very fortunate guy; lots of readers have enjoyed my book and have written really nice things about it. As you can see, I snuck a review in for my last answer. Here's another:
"One of the best books I've ever read. I loved the characters because they seemed so real. This is a wonderful book!"
Where can people learn more about your writing?
www.martincrosbie.com