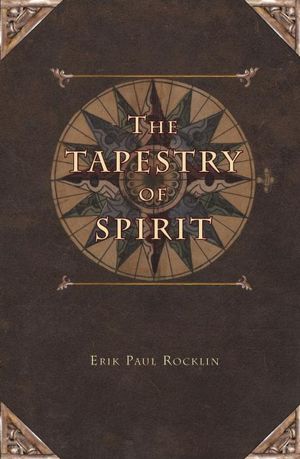 The Tapestry of Spirit
by Erik Paul Rocklin
Genre: Literary fiction / spiritual fiction
Word count: 50,000
"While there are many that journey who seek, not all that travel will find, for they are bound by what they have been taught and not of what they know."
— from The Tapestry of Spirit.
An enchanting, allegorical tale with insights of enduring relevance, The Tapestry of Spirit presents an artfully layered story of an orphan boy following a dream — a dream of a meeting in the East with a mystical figure known as the Mage. A seemingly coincidental encounter the day after the dream introduces the boy to an old man, summoned by the power of the boy's dream, to serve as his guide and protector during the journey. Along the way, some of the boy's encounters include a wise, elderly Sage, a blind Seer, a captive boy Monk, a grieving Mother, and a dying Father. And through these encounters, the boy learns of the power of dreams, the value of trust and belief, the vision of the heart, and the capacity of every individual to help in the healing of the World. As the boy journeys to seek the Mage, he comes to understand that in doing so, he also seeks his Destiny Thread, and ultimately, how it returns to the universal wisdom that is The Tapestry of Spirit.
This title is available from Amazon and Barnes and Noble.
Erik, how did you come up with the title for your book? Does it have any special meaning? 
I decided to name the book after the central subject of the book, and yes, it has very special meaning, as I like to think of it as a poetic description of what we all really are here on this planet.
Who was your favorite character and why?
My favorite character is the main character, the boy, as I believe that his character arc, his realizations along his journey, and his return to his true self are things that all people can hopefully experience in their own lives. His journey is as our journey is.
Does your book have any underlying theme, message, or moral?
The central theme is that we are, all of us, connected by a variety of things and in a variety of ways, if only we use the vision of our hearts to see it, and that we can either inflict suffering upon each other, or help each other to heal.
What would/could a reader or reviewer say about this book that shows they "get" you as an author?
That nestled within the variety of metaphors, characters and events that I have layered into the story, they see parallels to their own life, to pretty much anybody's life. That the story tenderly asks us to simply remember what it is that we so often forget.
Give us an excerpted quote from your favorite review of this book:
"…profoundly thoughtful…a truly original, and comforting, piece of literature, which seems to pass spiritual enlightenment to its readers almost by happenstance."
Where can people learn more about your writing?
I actually don't write daily for public consumption. Don't get me wrong, I can hardly see my desk for all the notes I've written for future book projects, but I suppose I'm just the type of person that doesn't share my writing until it takes the form of an articulate, profound entity of some considerable content. Yep, I'm an introvert!