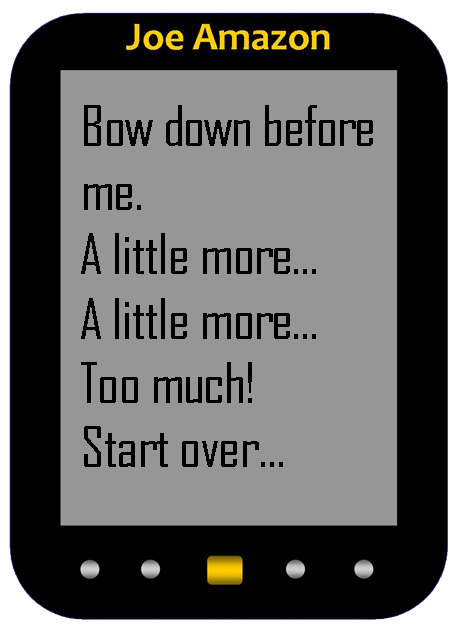 After reading several IU posts on KDP Select, I decided to give it a try. The novel I used was going to be a re-release of my first book, Project: Dragonslayers.
I figured this was a good idea, since there are currently 2 more books in the series, and I also have a back catalog of other novels and a bunch of short stories. My thinking was if I gave this book away it should help drive sales of everything else. Yeah, right.
I enrolled my book 23 November. About a week later, Amazon sent me an email stating they had found the book on Sony. I explained that it was a first edition and that I had taken down all other versions (that I could find!). Their letter read:
"Please note that digital content that is available elsewhere is not made eligible for KDP Select by adding or removing additional book content, adding a bonus chapter, author's commentary section, introduction, illustrations, making minor language edits, or changing the book's cover art, title metadata, etc. We reserve the right to determine the types of Digital Books that we accept in KDP Select."
I sent an email to Smashwords and asked them to check. They sent me back a nice email explaining that it can take up to 2 weeks to have a book removed from a distributor site, but they would send another email out to make sure. During this time, KDP did not remove my book from Select. I went on and set up some free days: 15 Dec, 25-26 Dec, and 1 Jan.
Up until 15 Dec, I didn't have ONE, nadda, zilch, zippo, zero download from an Amazon Prime member. Heck, I didn't even SELL a copy! Wow, this was disheartening. I wondered if I shouldn't even bother. This was getting me nowhere. When I had the book listed at $4.99, I'd sell a copy every month or two. My Amazon sales, in general, stunk. Meanwhile, on Barnes and Noble, my novels (except Dragonslayers) were selling well. I was baffled.
On the 15th, the first free day, I had a couple of the large eBook sites list the book. I figured I needed all the help I could get. When I checked my "sales" on the morning of the 15th, I had 21 free downloads. Better than a kick in the pants, my grandma always used to say. My hope was that those readers would like the book and come back for more. We'll see…
At the end of the first day, I had 507 free downloads. This also resulted in two sales of the sequel Dragonslayers: Mind Games and one of Project: Dragonslayers. I was quite pleased. The eBook websites had given me postings, which I'm pretty sure led to that number of downloads. I also posted on Facebook and Twitter.
Then that evening, I got another email from KDP—this time I was being kicked out of Select because they found my book on Barnes and Noble. I sent them an email back telling them I had contacted Smashwords and they said up to 2 weeks to have it removed. GAD! And because I also publish on Pubit, I went in and checked to make sure it was off sale—which it SAID it was. I sent BN an email with the link and asked them to take it down.
Now I was up a creek without a paddle. It was 16 Dec, just 8 days from Christmas, and my next 2 free days (25-26) were getting closer. All I could do was hope BN would take the book down. I even went to all the other Smashwords sites and checked—it was indeed down. Panic was setting in. I'd done quite a bit of marketing to announce the book being free those days, and I didn't want to disappoint readers. That's the fastest way to lose customers if you don't deliver on your promises.
I suppose I should interject a personal lesson from this: if you plan on putting a book up, and have it listed elsewhere, make sure at least a month or more before you do KDP Select, you take it down from all other sites—and monitor to make sure it's down. The KDP Nazis are watching!
Now it was really getting down to the wire. Finally, after I don't know how many emails to BN, I got the following on 18 Dec:
Kathy,
Thank you for bringing this to our attention. We're working with the necessary teams to investigate and address this issue as soon as possible.
Sincerely,
The PubIt! Team
And that was the last I heard from them. The book continued to be stuck in "processing" status for over a week! And it still appeared on the site. I emailed Amazon and PLEADED for them to take me back. All I got was this on 23 Dec:
Hello,
I've re-reviewed your book and confirmed it doesn't meet our KDP Select content guidelines.
In order for your book to become eligible for KDP Select, it must be exclusive to Amazon in digital format. Books are considered exclusive to Amazon when we have the exclusive right to sell and distribute the content of your book in digital format while your book is in KDP Select. During this period of exclusivity, you cannot sell or distribute, or give anyone else the right to sell or distribute, the content of your book in digital format.
Here is where your book, Project: Dragonslayers (2nd ed) (Dragonslayers Saga) (ID: B0066DL8Q0), is available:
http://www.barnesandnoble.com/w/project-k-rowe/1113023232?ean=2940013578388
Please copy and paste the entire URL above into your web browser to see where we found your book. You can do an online search for your book to discover which, if any, other sites may also be offering it.
Your book is not eligible for KDP Select at this time; however, it will still remain for sale in the Kindle Store and will be eligible for re-enrollment once it complies with the KDP Select requirements. Upon making your book exclusive, please reach out to [email protected] so that you can re-enroll it into the program.
Check out this page to learn more about these guidelines:
https://kdp.amazon.com/self-publishing/help?topicId=200798990#eligibility
Thank you for your interest in publishing with Amazon KDP.
Adam B
Amazon.com
What was I going to do? I had several more eBook sites going to be promoting the book. How could I get it to readers for free? I knew the sites would give the link to Amazon- how could I covertly steer them to Smashwords to get the book for free? My "Plan B" was this—I inserted the following into the book description on Amazon:
"Due to a computer malfunction on another site, Project: Dragonslayers was removed from KDP Select. If you would like a free download, go to smashwords.com and type in the title in the search box. The book will be free from 25 Dec to 1 Jan. Sorry for any inconvenience."
I hoped the KDP Nazis wouldn't find it, so I didn't just insert the direct link to Smashwords. That surely would have gotten me busted. Fingers crossed this would do the trick and folks would find it and go there. I also Tweeted and posted the Smashwords link on Facebook, and even Stage32.com. I didn't want to disappoint readers. Heck, it was a free Christmas present!
So what have I taken away from all this? I will NEVER do KDP Select again. In doing more research, that juicy global incentive fund—yeah, you only get a cut of that if someone borrows your book from the lending library. Since I have not had a single book ever downloaded from the lending library, I won't get a cut of that fund. Personally, I think that's a bit of a sham.
Now you have my whole story. Yes, I learned a painful lesson and won't repeat it. All I wanted to do was to promote my book to a large audience and what did it get me? Major headaches. I hope anyone else thinking of doing Select will take every precaution necessary to prevent what happened to me. I thought I did, but evidently not.