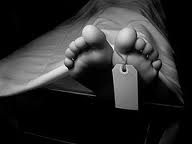 Here is the situation: You have written a mystery, police-procedural, thriller, spy novel, western, or something of the like. Now you get to the part where there's a dead guy. You killed off a character. Maybe your bad guy killed the person. Maybe your good guy killed the person.
It ramps up the drama. It gives urgency and purpose to the story. Maybe the good guy has to stop the bad guy before he kills again. Maybe the vigilante just wrought his first bit of rough justice.
Your hero and your villain are now rounded out. The die is cast. You can shape and define your characters around the chalk outline of this body. My question is how well did your readers know the person you just killed off? Was it a simple height/weight/age/sex/hair color thing?
If the reader is not introduced to the character, doesn't know or relate to the character, why should the character's death evoke any response, any pathos? Stalin infamously said that a single death is a tragedy—a million deaths is a statistic. It is cold but true. This is why anyone selling anything tries to "put a face on it."
When you read in the paper that a bazillion stray dogs had to be euthanized, you furrow your brow, shake your head and turn to the sports section. When that commercial comes on showing a montage of sad-eyed pups and Sarah McLachlan is singing "Arms of an Angel," something inside you moves. It connects.
It is easy for us to understand the need for the reader to connect with our protagonist. That is probably what receives most of our character development focus. We also want them to connect with the villain, to care if he gets his comeuppance. Too often, that's where it stops. Writers often take a pass on opportunities to enrich other characters. The hero's love interest is pretty bland, the minions and sidekicks are two-dimensional, and nobody really knows anything about the dead guy.
I saw this happen in my current work in progress. Without giving anything away, the villain kills two characters. I knew from the beginning he would kill these two characters. The real point is, people only care about one of these characters. Months later, I came back and asked someone who had read it about the two characters. She remembered the second dead guy—his job, some minor affliction he had, even his name. She didn't remember the first dead guy at all. It may seem odd, but that is pretty much what I wanted to achieve.
In a sense, the characters in our books are like the people we see around us in real life. We know some people very well, some people we know casually, and others not at all. They are just there. They are there in front of us in line at the checkout stand or in the car next to us at a traffic light. We can have characters in our books like that too, but we need to be careful that not every character other than the main ones fall into that haze of obscurity.
If you want your action to read like real life, then acquaint the readers with characters as if it were real life. The world isn't just made up of people we know very well and people we don't know at all. It has dimension.
In Ed McNally's excellent book, The Sable City, he kills off a character fairly early on. I won't spoil it for you, but what he does to make this character likeable and relatable is an excellent study in adding some depth to minor characters. McNally is masterful at this and so subtle, the reader may not even realize what he is doing that makes his writing work so well. But, that is the real trick of it all, isn't it?
What are your thoughts and who have you read who has done this sort of thing very well?