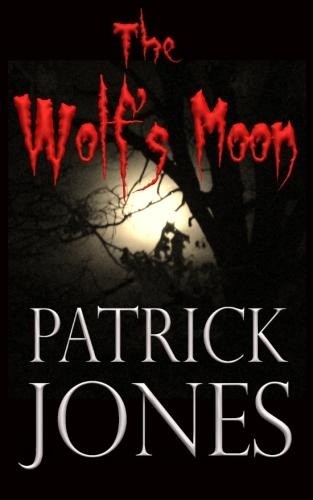 The Wolf's Moon
by Patrick Jones
Genre: Mystery/Thriller/Suspense
Word count: 95,000
In "The Wolf's Moon", author Patrick Jones creates a spellbinding tale of an ancient animal that haunts the foothill towns of Missouri's Ozark Mountains. An unknown group of scientists has genetically engineered a Dire Wolf into the present day. Allegedly extinct, the ferocious beast preys upon the innocent people of Maple Hills.
To hunt and kill the beast, the town folk will have to rely on the tracking feats of Mark Lansdowne. He is a reluctant hero, still mourning the loss of his wife to illness. Relying on his rescue dogs and indefatigable hunting skills, Mark will set out on foot in search of the mysterious beast. Yet the hunter's personal history and romantic entanglements will come back to haunt him during his search for the vicious animal.
5a. Short book description: (140 characters or less, tweetable)
This book is available at Amazon and the author's website.
Patrick, how did you come up with the title for your book? Does it have any special meaning?
It was January when I started the book. I came up with the title because the book began under the Wolf Moon cycle itself. Interestingly, the book cover came from a picture that my wife, Sandy, took in January 2012 as I was getting the book ready for publication. She designed the book cover that is attached.
Who was your favorite character and why?
Skruggs. The reason I like Skruggsy is because he would rather see humor than the bad in life. He always smiles, but when the smile fades he becomes a very controlled, violent individual. He deeply loves his wife. He would help anybody at the drop of a hat that needed help. But he would kill just as fast. He's actually a very good man.
Does your book have any underlying theme, message, or moral?
Loyalty and Love:
The loyalty between Linden and Skruggs: Trusting each other even if it caused their death, never questioning their motives.
True love that Linden has for his deceased wife: Linden made a commitment and took a vow. He loved her completely in life, so her death is only a temporary separation.
Love and friendship do not die.
What would/could a reader or reviewer say about this book that shows they "get" you as an author?
Thriller fans will rejoice at the well-paced vignettes and spiking tension. Jones doles out information with care, providing enough history to make things clear without overwhelming exposition. This same care is evident in the novel's resolution, which ties up loose ends without shutting the door on further developments.
Give us an excerpted quote from your favorite review of this book:
It's all too easy to let the ghosts you see consume you—but the very things that haunt you can often keep you alive and fighting, as the mysterious widower Mark Lansdowne discovers in Jones' debut novel.
Where can people learn more about your writing?
Webpage/Blog is http://www.thelindenchronicles.com