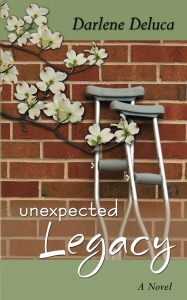 Today we have a sneak peek from author Darlene Deluca's contemporary romance, Unexpected Legacy.
Matt Dalton's world is spinning off its axis. Without warning, he's thrown into the world of parenting a teenager. When he turns to the lovely Kate Austen to help his son regain his athletic abilities and sense of self after a tragic accident, Kate is ready to fight for Brady. But when Matt asks her for a date, she has to fight her attraction to the man. High school principals don't date the parent of a student. How much will she risk if she follows her heart?
Unexpected Legacy is available through Amazon.com and Amazon UK.
Here is an excerpt from Unexpected Legacy…
Matt Dalton held his breath. The doctor removed his glasses, and tapped them against the document in his hands, his blank face conveying nothing of the opinion he was about to render.
"Mr. Dalton, based on this report, I'd say there's about a ninety-nine-percent chance this boy is your son."
Matt's pulse raced. It's what he expected, but the doctor's words of confirmation made it real. Holy Christ, he had a son. He was a father. Nothing so profoundly life-changing had ever happened to him, and it took his breath away.
He stood up, shoving one hand in his pocket and extending the other to the doctor.
"Thank you," he managed, his throat tight. "It's good to know for sure."
In his heart, he'd known it was true from the instant the boy's grandmother had opened the photo album and slid it across the table in front of him. There was no mistaking the resemblance – the wide-set smoky blue eyes, the cocky lopsided grin. Yeah, he'd seen those before.
The doctor folded the paper, tucked it inside an envelope, and handed it to Matt. "Best of luck to you," he said, patting Matt's shoulder.
On rubbery legs, Matt somehow made it out of the office and to his car. He rested his head against the steering wheel, and sobbed. He was a dad – the father of a high school teenager who was now horribly scarred for life, and missing part of a leg.
His shoulders shook with regret for the son he'd never know, and with pity for the son whose hopes and dreams would be forever altered.
The call had come out of the blue, shattering his day before it even got started, waking him from what he remembered was a pretty good dream. The dream had turned into a nightmare when a woman he didn't know started crying and babbling about a boy, an accident, and a stroke.
Matt had been stunned. Still was. He was in a fog, trying to understand what had happened and figure out what to do, hardly able to absorb it all. A woman, a girl he'd barely even known, had given birth to his child. Unbelievable.
As he pressed the accelerator and shifted gears, the Audi quickly exceeded the speed limit. His heart beat a little faster. He wanted the speed, the rush of adrenaline that shot through him. The open highway would help clear his head. He inched the window down and let the sharp wind blast against his face.
Then he remembered the accident – the event that had started all of this. Well, the event that had led him to learn of his parenthood, anyway. Inexperience and alcohol had been factors in the accident, but so had speed. Sobering, he reduced the pressure on the gas pedal and moved to the right lane. He took the long way home, trying to sort a thousand thoughts and feelings.
---