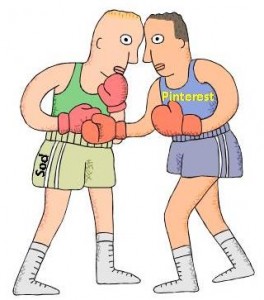 Pinterest versus Socl? Well, I really don't think so. Pinterest is a huge monster – third largest social network in the world – and it's humming with activity. Socl is just starting out and is a little more limited because users can only post what they can find on the search engine Bing.
So why bother with Socl, then?
Well, I like things that are fast. I find it a LOT faster to create a board on Socl than on Pinterest. On Pinterest, you need to search for the photos you want, then pin them to your board. For Socl – you just type in your search term and you pin directly from the results onto your board. Fast. Easy. If you can tolerate Bing and the fact that you won't always find exactly what you're looking for, that is.
Of course, Socl has nowhere near the amount of traffic or members that Pinterest has. For me, that's okay. I can't compete with the folks on Pinterest for attention because I don't have the time to constantly update my boards, and I don't surf the web enough to find new material to pin on a consistent basis. Meanwhile, each time I post a new board to Socl, people I've never heard of "like" it. So I am getting some exposure.
Meanwhile, Pinterest is a great place to attract people with the same interests. Our L.A. Lewandowski is a Pinterest aficionada and has written about how to use Pinterest for your branding. Here are a couple of her articles for you:
Promoting Your Brand with Pinterest
Building Your Platform (with Pinterest)
If you're not on Pinterest yet, and you need a little help figuring it out, here's a tutorial for you. I'm not going to lie. I am on Pinterest. I have a few boards, and I have to thank Lois Lewandowski for helping me with the most dynamic one, and for improving my understanding of what makes a board interesting. (My page is here.)
Yes, I'm also on Socl. My page for that is here. Want to know more? Here's a tutorial. Now, I created that tutorial back in January, so if it's no longer exact, please let me know.
Am I saying you should sign up for both of these? Only you can determine that. I think that if you enjoy scrapbooking and have the time to do your boards up right, Pinterest is for you, for certain. For someone who flies by the seat of his/her pants and only has a few minutes every so often to slap a board together, then I think Socl is the way to go.
Do you really need either? Well, people like pretty things, and colors, and pictures. What do you think?
By the way, tomorrow we're having a Pinterest-fest, so get your boards all spiffed up.