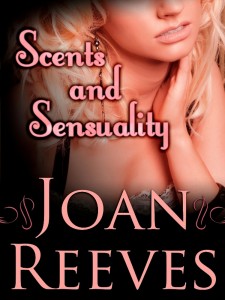 Amanda needs a man. Desperately! She'll do anything to get a date for her snooty cousin's wedding. When a matchmaking mom proposes her son for a wedding date, Amanda agrees. What choice does she have? Men aren't exactly falling at her feet and beseeching her for the pleasure of her company.
Harrison has had it with his mom's matchmaking! Desperate to put an end to her meddling, he decides to teach her a lesson as well as get out of the date she's "guilted" him into.
Two desperate people – each determined to achieve their goals. Desperation makes interesting bedfellows.
Scents and Sensuality, the contemporary romance by Joan Reeves, is available through Amazon.com, Barnes & Noble, Amazon UK, and other online retailers.

Don't forget, you can cast your vote for trailer of the month on April 27, 2013 at 5 p.m. Pacific time.
---