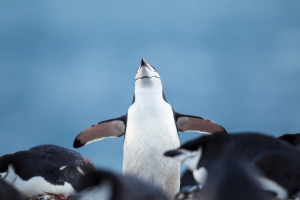 Throughout Indies Unlimited, you will find a wealth of information on everything you need for a successful writing career. As we build our platforms through "like" campaigns and connecting with our readers in about every way imaginable, sometimes it just feels like we get lost in the masses.
We are always asking the question, "How do I stand out in the crowd?"
I started thinking about what I do for my clients and how that is different from the Indie Author world. In the end, it really isn't. Over the years, a mammoth shift has occurred in marketing from direct mail and yellow pages to an ever-changing group of interactive platforms where content and conversation are community-driven.
We do a great job of building that platform, probably better than most businesses. Yet, even with as good a job that we do, we still aren't where we want to be. If you ask me, I think the secret is writing good books and a little luck. Just ask our own Chris James and take a look at his interview with Hugh Howey.
Alas, we are not all in that position. So how do you get noticed in the crowd?
There's one thing that I do differently with my clients that I've never done with my own writing business—e-mail marketing. I'm not talking about e-mail subscriptions that send your blog headline and link. I'm talking about an actual e-mail newsletter.
How many of you out there are sending out a monthly or quarterly e-mail newsletter?
I know I have never done it for my writing life, but I think I might give it a shot.
I'm not talking about spamming people, I'm talking about using your e-mail list to connect directly with your "fans" by delivering professional e-mail communications to an interested audience. You might include excerpts from your WIP or share reviews that you've received. Maybe you use it to run a cover test for your upcoming novel.
The beauty with e-mail marketing is that it is inexpensive, professional and you can track what happens. You might put the same type of thing on Facebook, but you don't know who you're reaching and the extent of that reach beyond the simple insights that Facebook provides.
With e-mail marketing, you can track how many people view the e-mail, open the e-mail, click a link and follow where they went—Facebook, your blog, website or anywhere. You can offer a free download, ask them to follow you on Facebook or just about anything. If you are running a blog hop, why not let your fans know. Do you have a book-signing coming up? Get the word out. E-mail marketing is more personal, as if it's on a one-on-one basis.
The big difference—you are reaching out to your community directly.
I prefer Constant Contact for this service. They offer hundreds of templates and provide all

of the statistics and insights that I've mentioned above. You can customize with your own logo, images, colors and more. You can personalize it to the recipient. Their help desk is awesome and it is very easy to get started. They even offer a free 60-day trial, so you have nothing to lose.
After a couple of months of e-mail marketing, I can bet that you will have more blog followers, more Facebook likes and more of anything that you want to promote … even readers.
If you are using this type of e-mail marketing, let me know how it's working for you. If not, give it a try; it might just help you stand out in a crowd.