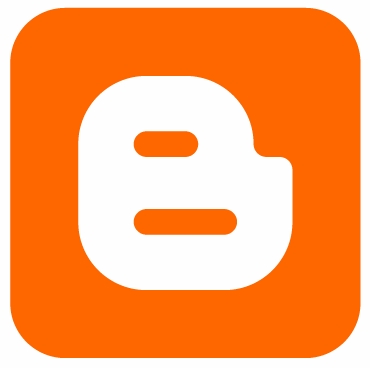 July 2010 I had the idea for a book. A frustrated housewife, facing 50, would write a humorous diary about her life. However, after researching it I realised the diary format was "old hat", so, after several more glasses of Chardonnay, I had a eureka moment. The woman would write a blog and end up making hundreds of friends online. How difficult could that be? Of course, I had to set up a blog, and then I had to find friends or as I now know them, followers.
Setting up the blog was simple enough, even for an internet dunce like me, but followers?
If I tell you that after one year of blogging I had over a thousand people following the blog, then you'll realise it is easier than you think.
First off though, you need some way of letting people follow your blog so they know when you have posted.
I originally started blogging using Blogger as my platform. It has got even easier to use over the last two years. First, make sure you are signed into your blog. Top right of your blog will show three options: NEW POST, DESIGN, LOGOUT. Click on DESIGN then on "Layout" to be found on the left hand side. When clicked, it turns orange. That should open a page similar to this: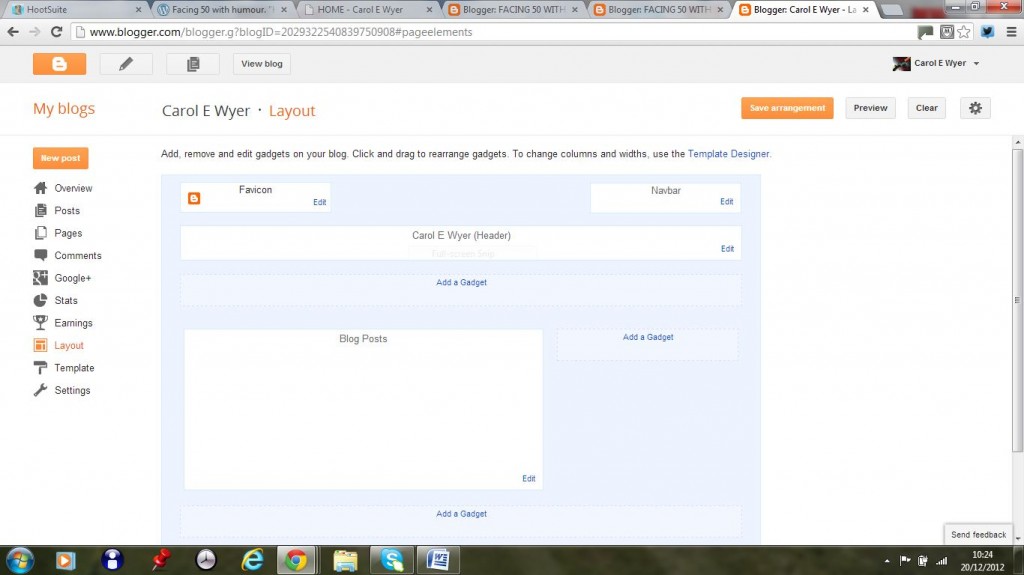 Now click on the "Add a Gadget" option written in blue on the right hand side. A small box crammed full of gadgets (also known as widgets) will appear.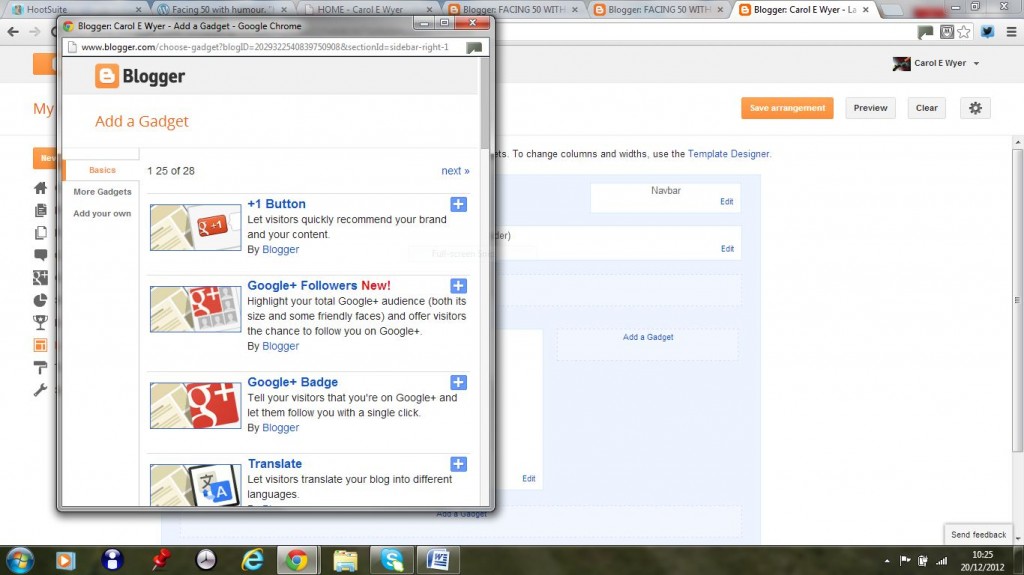 You now have a number of choices. Play about later with gadgets for fish that need feeding or Twitter add-ons. For now, look out for following options. You'll see that the Google+ Followers widget is at the top of the list and Follow by Email, further down the list. Try these too when you are confident. Start by scrolling down to a gadget called "followers". This will allow people to connect and follow your blog using GFC (Google Friends Connect). Click on it and you'll get another box: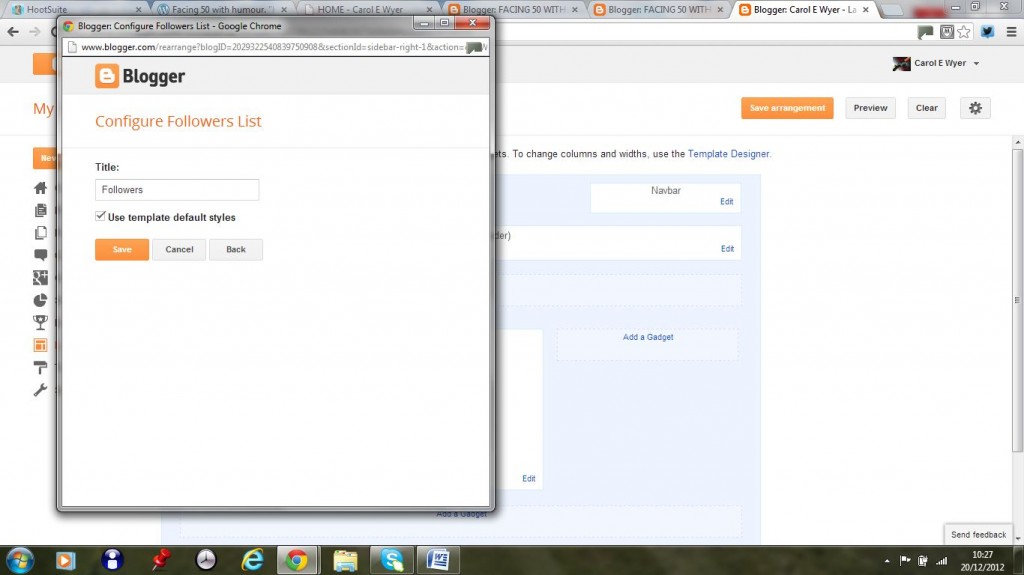 Change the text in the title box to whatever suits you. You could put "Follow this blog" or "Become one of my elite squad", whatever takes your fancy. Then press the orange save button.
Your box will now appear on the right hand screen with the title you have given it.
It might now look like this: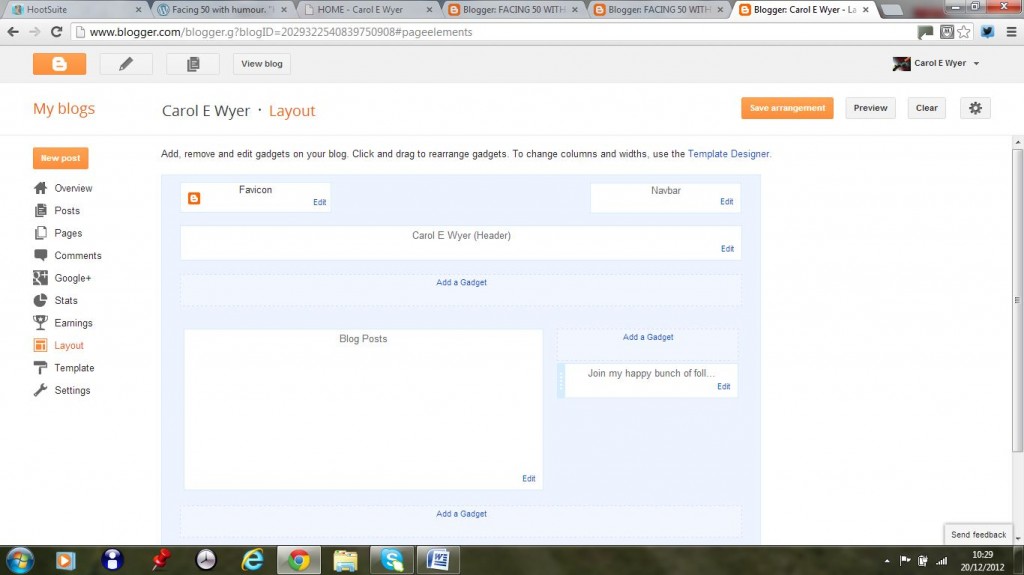 Click the orange box at the top of the screen marked 'save arrangement'. All done! Now press "view blog" and see how it looks on your blog. Goody! I seem to have attracted two followers while preparing this tutorial: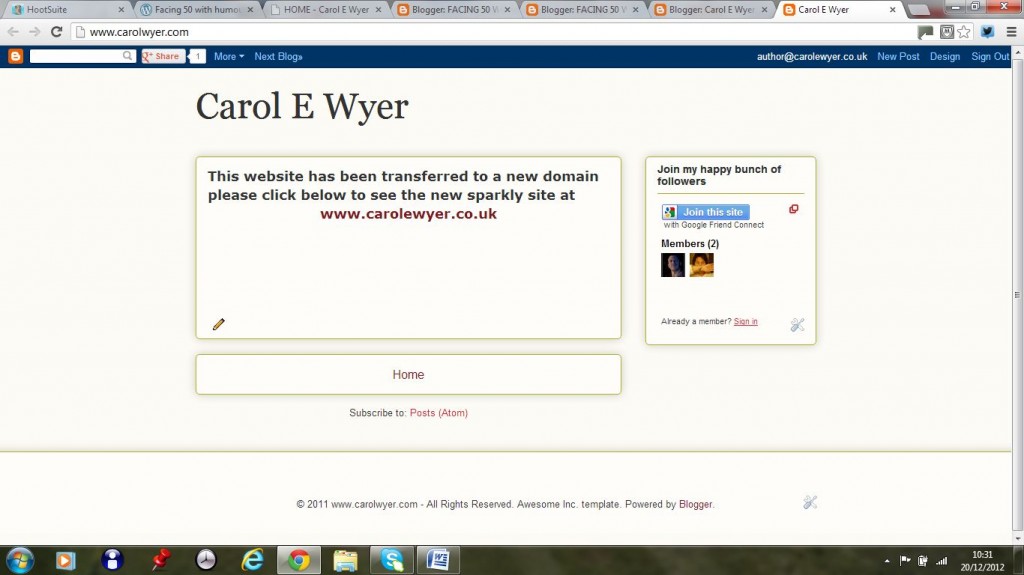 Using these gadgets you can create boxes on your blog so people can follow you by email or using Google+ Friends too. It's similar procedure to the one above and Blogger hold your virtual hand so you don't get into difficulties.
To gain extra followers you could join Bloggers.com and also ensure you link to Networked Blogs on Facebook. (There will be more about increasing your number of followers another time.)
Recently, I made the daring decision to change platforms to WordPress. This took some adjusting but I am now satisfied with the decision. Have I lost my followers? No. I can't see their little faces anymore under GFC on my blog, but they subscribe by email to the new site.
Of course, the easiest way to follow a blog is to press the follow button at the top left of the blog, but if you would like to offer people the opportunity to subscribe and find out when you have posted, then WordPress also has widgets. First, log in and get into your dashboard then scroll down to "Appearance" on the left hand side. Once you click onto it you'll find these options under that heading: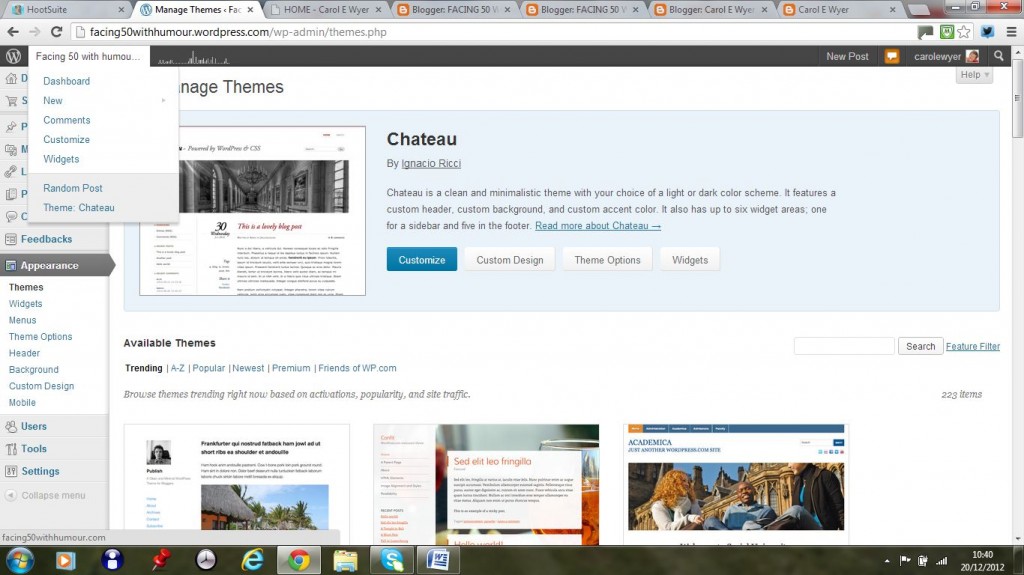 By clicking on "widgets" an entire list of goodies will be displayed. Don't be afraid. They are user friendly.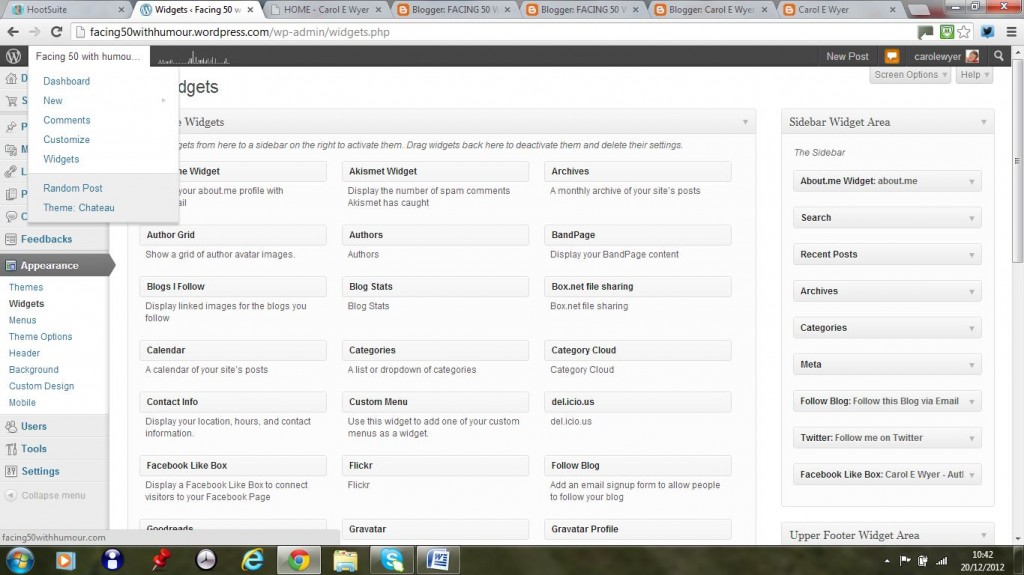 The "Follow Blog" widget is to be found in the third column. Click on it and drag it over to the left hand side of your page called the sidebar widget area. A space will magically open up for you to plop your "Follow Me" into. Once it is there you will see a down facing arrow on the box. Click it and a smaller drop down screen will appear below it: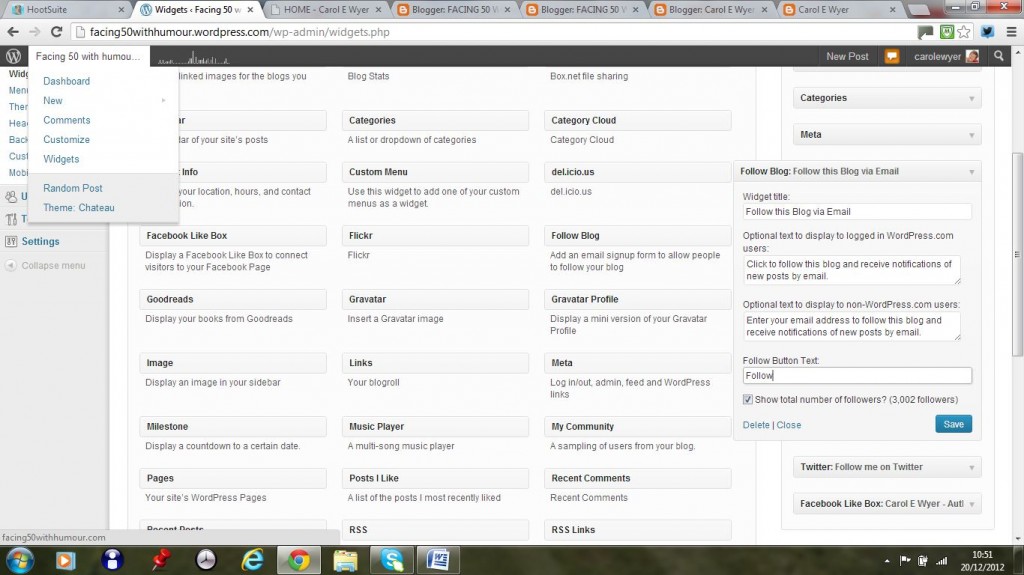 Now you can change the title text so it appears to be less formal if you wish. Click on the blue "Save' button and as we say here, "Bob's your uncle!"
Your followers will be updated when you post and you will know how many people are reading your blog. Don't forget to check out the blogs written by your followers. As Genesis said, "I will follow you will you follow me…"