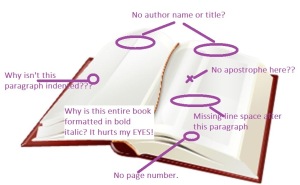 Between the submissions we receive here at Indies Unlimited and the ones I receive for consideration for the Hurricane Sandy Library Recovery project, I've vetted close to 200 books in the past two weeks. Yes, my eyes are tired, and there's a slight chance I may be just a teeny tiny bit cranky.
I'm noticing a lot of common errors while reviewing the previews of these books, which I'm going to list below. People complain (no, I don't know which people, just people, all right?) that indie and self-published books don't meet the same level of quality as traditionally published books. I don't believe that can be made as a blanket statement. What I will tell you, however, is that these errors are DEAD giveaways that a book is a not-so-high-quality self-published product. Isn't the goal ultimately that someone can pick up an indie book and a traditionally published book and not be able to tell the difference? Well, let's do away with the issues below and we'll be well on our way.
#1 – It's versus its. This is probably the most common grammatical issue I run into. The incorrect usage of this in the book preview – or in the book's description – screams of an unedited product. This does not make a good first impression.
#2 – Typos in the first sentence or paragraph. WHAT? Yup. Incredibly common and there's really no excuse for that. I've even come across entire words missing in that opening line. The first paragraph should be pristine – that is your hook – and any mistakes in there are inexcusable. People expect that an author has spent the most time polishing the opening of the book – so if that's not that great, what can they expect of the rest?
#3 – Inconsistent paragraph indentations. This is mostly prevalent in eBooks, but I've also noticed it on some print book previews. This, of course, looks sloppy, and that's the impression it's going to give readers.
#4 – Inconsistent spacing between paragraphs. Again, mostly prevalent in eBooks – and really ugly to look at.
#5 – Double spaced print books. This, I don't get at all. I don't know if the authors are trying to make their books longer so they can justify printing them, or what. Not only does it look unfinished, it reminds me of someone submitting a high-school term paper.
#6 – No page numbers in print books. No, I'm not kidding. I've also noticed that some books start on page six, or some number other than one or two. In a preview, this can be really confusing to potential readers.
#7 – No headers in print books. You know, the author name on one page, and the book's title on the other? Yeah. Not professional. Createspace provides authors with a template which includes page numbers, headers, and section formatting. I don't know if Lightning Source and Lulu do the same, but if they do, please, please, please USE IT. Still not sure how to do it? Our lovely Lynne Cantwell will show you here.
#8 – Too much front matter junk. Seriously, I don't want to read about the author's cats, quotes from reviews, or about the author's other books. I don't want to have to search to get to the real book. I already know all that other junk by the time I've clicked through to preview. I want to see what kind of a writer the person is. Big Al recently wrote a post on this here. Read it, live it. Please.
#9 – Quotation mark capitalization problem. I've seen this a number of times recently, and I thought maybe it's some kind of word processing formatting issue. I don't know. But what happens is – there is some dialogue, a comma, and then a capitalized word that shouldn't be capitalized like:  "Blah blah blah," He said. Of course He should not be capitalized. I've also seen "Blah blah blah." He said, throwing up his hands. Again, He should not be the beginning of a new sentence.
#10 – Table of Contents in fiction books. This isn't necessary in fiction eBooks and is just plain old strange to see in a print book. I could understand there being one in non-fiction books or anthologies, and I can even understand there being a very short one to include "about the author," "author notes," or "glossary of terms." But just to have a chapter listing doesn't really make any sense – and when, in the print version, the chapter type is in blue (in the preview) – this is indicative that the eBook version came first and those served as links. The reader may think that the print book was the evil afterbirth, or they may think nothing. Who knows?
BONUS – Typo in the title. Don't laugh, I have seen it. On the front cover.
I also have to mention the horrendous book description. Yeah, I know, this isn't technically part of the book, however, "Joni finds a magical rock – see what happens!" is not a bloody book description. Here's the even bigger issue with this – take the lame description in the previous line, add to it #8's front matter issue, and by the time you're done, you've had one page of actual book preview (or maybe none!) and you have no idea what the book is about. Guess what a potential customer is going to do – they're NOT going to buy that book. Please do your book the justice of writing a decent description. Here's how. Don't know how to change your book's description on Amazon? Here's how.
Yeah, I know, it's annoying that we, as authors, have to do so much more than just write the book. The difference is that trads have a staff to do these things. But that's what comes with the territory as an indie author – and it's worth it. There's no excuse for not putting out a quality product. These errors may not seem like a big deal to you – but they are indicators of an unprofessional, incomplete, and possibly even unedited product. When a potential customer goes to your book's purchase page and clicks on your book's preview, they're basically interviewing your book. Do you really think it's a good idea for your book to show up with its fly down?