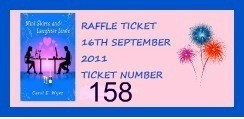 Online launch days are huge fun but they should also result in oodles of sales and, managed properly, may even propel your book up the Amazon charts.
With careful preparation this can be successfully achieved. You've spent long enough writing your book, so take extra time to ensure you give it the launch it deserves.
Many people try to tempt people along to a virtual launch by offering outrageously expensive prizes like Kindles or iPads. You don't need to spend that sort of money to attract attention. Small prizes will do the job equally well. Bookmarks, badges and key rings all go down well. Check out your followers. Many of them have Etsy shops and may be willing to gift you a prize for a mention. Mostly, it's all about the fun element.
Treat your launch like you would a house party and start off by writing out a list of everyone you think would like to attend. Three months before the launch send personal invites via email to all your followers, friends on Goodreads, Facebook, Linkedin, Twitter etc. letting them know that you are going to be having a launch party and inviting them to attend. It is much nicer to receive a personal email in these situations.
How do you get them to agree to come? I offered a virtual numbered raffle ticket to each person who agreed to attend. (I made them using Paint) The ticket entitled them to one chance of winning one of many prizes at my "grand draw". (Prizes were supplied by friends who had Etsy shops or sold good on their sites in exchange for publicity.) I also invited them to sign up for a Mini Skirts photo competition and the Laughter Line joke competition. (Yes, my book was called Mini Skirts and Laughter Lines.) You too could use a theme associated with your book. I recently attended a Voodoo party where we were all invited to post our spells. Use your imagination!
Keep track of those attending. You can make life easier for yourself by asking guests to sign an attendance list posted on your blog.
Two months before the big day, send out a pre-launch newsletter revealing the prizes, the order of events and what they can expect at your party. Make it exciting. I, for one, am not too interested in dropping by a blog just to win a copy of someone's book – even if it is a great book. I prefer fun posts, reviews, excerpts, character interviews and virtual champagne. Remind your guests to enter the competitions you are running and to invite their friends.
A month before the event, send out "ready-made" posts about the party for those people who might want to blog about it. These can then be "cut and pasted" into people's blogs. Ask people nicely and you'll be surprised what they are willing to do to assist you.
Create a launch event on Facebook and invite those stragglers who haven't yet said they will turn up. It is very simple to do and FB will guide you through the process. Let people know what you will be offering at the launch party. Have "spot" prizes for those people who attend the launch on there. Last month, at a Facebook event party for Surfing in Stilettos, we held a spot prize contest for the best photo of someone's stilettos posted in the event page. It was a huge success. People shared those photos on their own pages, resulting in even more interest in the event.
You should also hold a giveaway competition for your book and post the event on Goodreads. This attracts much attention.
A week before the launch, send your guests prepared status and tweets about the party. They can now start pimping the party for you on social networking sites. Create a buzz by adding hashtags #surfinginstilettos, #badbook, #nudeswimming to the event on Twitter, and see if you can get it trending.
The night before, make sure your posts are scheduled, your links all work and then, get a good night's sleep. Don't forget the different time zones. If you have followers in Australia, they will be up and expecting to party while you are zonking in your bed unless you have specified the time zone you are using.
On the big day, ensure you have a strong online presence. Answer all comments left at any of the participating blogs, and keep the party flowing by being a virtual host or hostess. Nip over to fellow bloggers if they have posted about the event and leave comments.
If you are hosting on Facebook, ensure you post spot prizes throughout the day and drive traffic back to your blog with mini competitions.
I played it safe with my first launch and set up the whole thing at my blog. Each tab represented a room in a house. In the "kitchen" I had video clips of all songs to do with my theme, and hosted the "Mini Skirts" competition. The page was filled with photos of those who had entered the contest and guests were invited to choose a winner. In the "dining room", there was the "Laughter Lines" contest where guests could read and judge the jokes. In the "playroom" there was a range of virtual games for them to enjoy, including virtual darts and virtual juggling among other activities. In the "study" were several cartoon portraits of reviewers. Clicking on each revealed a review for the book. Guests were invited to win a copy of the book by leaving a comment. In the "garden" was a display of amusing virtual food moving GIF pictures. You could even order ice cream from a virtual ice cream stand. At a pre-arranged time we held virtual fireworks, launched the book and announced winners.
It's all about creating a big enough event to get people talking about it. I also set up a live chat box on the front page of the blog to ensure guests could "talk" to one another. You can set them up through Facebook.
Whatever you decide to do, ensure you are well-prepared. People love to be part of a party, so include them. The more they enjoy what you are offering, the more they are likely to tell their friends. Even after the event, you are likely to find people blogging about it or posting party photographs.
So, good luck with your event and don't forget to post the photographs of your virtual "drunk" guests for us all to laugh at.