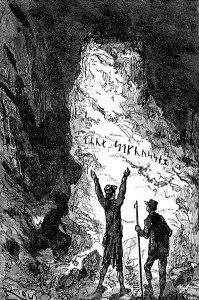 Last weekend, I formatted my new novel for CreateSpace in MS Word, and survived mostly unscathed. This is my story.
First, I did the easy part: formatting the book for Smashwords and Kindle. But then – oh, then. Then I had to dust off my high school yearbook staffer hat, and tackle the paperback.
When formatting for print, you have to think in terms of two-page spreads. Your even-numbered pages will be on the left, and your odd-numbered pages will be on your right. That means you want your title page, your dedication (if you have one), the first page of your table of contents, and page 1 of your story all to be right-hand pages. You will need to insert blank pages to make this work. So: Title page, copyright page, dedication page, blank page, Table of Contents. If your ToC is an even number of pages, you're good; if it's an odd number of pages, insert another blank page. Then put in a "next page section break."
Why not just a page break? Because you want the page numbering for the meat of your book to be different from the non-numbering in your front matter. Click somewhere on the first page of your first chapter, bring up the page number dialog box, and click Format Page Number. Click the radio button for "Start At" and make sure there's a 1 in the box. Click OK.
To get rid of the page number on the first page of your chapter, go to Page Setup. (In Word 2003 and earlier, it's on the File menu. In 2007 and later, it's on the Page Layout tab; you will have to click the little square in the Page Setup section of the ribbon to bring up the dialog box.) Once you've got the dialog box open, go to the Layout tab; click on "Different first page," and where it says, "Apply to," click the drop-down arrow and pick "This point forward." Then click OK.
If page numbers are still giving you heartburn, take a look at the footer on the first page of your first chapter and make sure it doesn't say "Same as previous". If it does, click off the "same as previous" button in the dialog box. (You don't want to turn off "Same as previous" in subsequent chapters. You want them to be exactly like the previous chapter, with no number on the first page. Right?)
Next, you need to format your page size. CreateSpace likes 6" x 9" pages; Word does not. So you will need to create a custom paper size. Go back to the Page Setup dialog box. On the Paper tab, click the drop-down box next to "Paper size" and scroll down to "Custom size". Then you can fill in the width (6") and height (9").
While you're in this dialog box, click the Margins tab. Where it says "Multiple pages," click the drop-down arrow and pick "Mirror margins." Then set your top and bottom margins to 0.75", your outside margin to 0.5", and your inside margin to 1.0". This will keep your text from running into the gutter – the crease where the pages meet. Click OK to get out of the dialog box.
Once you've got the pages the correct size, you can create your Table of Contents. Word has a native ToC generator, but I don't use it for my novels because CreateSpace's converter is weird. When I uploaded Seized, the first book in my series, CreateSpace's file converter managed to screw up the page numbering for my chapters – even though I had uploaded a pdf. I then had to spend some quality time going back and forth between the online previewer and Word to put the correct page numbers in my Word ToC, convert the file to a pdf again, and re-upload it to CreateSpace. Maybe my (free) pdf creator was stupid, I don't know. In any case, when you're looking through your book on the online reviewer, make sure your ToC is correct. (In the case of both Fissured and Tapped, I decided that because my chapters don't have titles, I didn't need a ToC.)
Now your interior formatting is done, huzzah! But you still need to do your cover – and don't forget that you need a back cover, too. You'll also need to resize your e-book cover to 6.25" x 9.5", and improve the quality of your graphics from 72 dots per inch (dpi), which looks fine on a computer screen, to 300 dpi, which is what you need for print. Over the weekend, I had conveniently forgotten about the need to reformat the cover and make a back cover until I got to the cover wizard. That cost me a couple of hours and involved a fair amount of speaking to GIMP and CreateSpace's cover wizard in their native language at 2:00 a.m. (Let's just say I made the air a lovely shade of blue.)
Anyway, it's over now, and the trauma wasn't anything a glass of wine or two couldn't fix. Although just writing about it…. I wonder if there's any wine left?