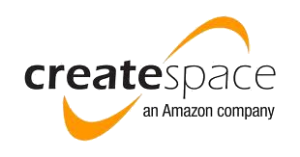 [For an update on Createspace's Expanded Distribution program, please read Lynne Cantwell's article here. – the admins]
Createspace is Amazon's print-on-demand company. They're the same guys but they're run as a separate company. Amazon is in Seattle and Createspace is in Las Vegas. I self-published two ebooks through Amazon (KDP), and the same two books in print form through Createspace. Unfortunately, when I had to contact them to deal with different issues that sometimes come up when you publish your own book, I had to speak to each company individually. So, that means emailing Amazon for your ebook queries or contacting Createspace by email or talking to them on the phone. Yep, they'll talk to you. You instant message them from their website and ask them to phone you. I've done the phone deal five or six times and each time my phone has rang within five minutes of messaging them. It's a great system and they've been very good in helping me.
I was asked recently whether I utilized Createspace's Expanded Distribution feature and paid the $25 fee. I did-both times. This is the blurb from Createspace's website detailing what Expanded Distribution means and how it expands the reach of your book to their additional outlets and distributors:
• Bookstores and Online Retailers – Make your book available to online and offline retailers such as Barnes & Noble and to distributors, such as, Ingram and NACSCORP.
• Libraries and Academic Institutions – Make your book available through Baker & Taylor to libraries and academic institutions.
• CreateSpace Direct – Make your book available to certified resellers through our wholesale website.
Through Expanded Distribution you can take advantage of our direct relationships with retailers, as well as leading industry distributors, such as Ingram and Baker & Taylor.
As you can see, in paying the additional $25 your book will be distributed to a number of wholesalers and libraries as well to Barnes and Noble. One of those distributors is Ingram, and, because I'd like to get my books onto the shelves in bookstores, Ingram is important to me. Through a couple of personal contacts I managed to get my first book into a couple of large grocery stores and Black Bond Books, an independent chain of bookstores. So, when I approached both of these places it was easy for them to order my book. In Canada, to have your book considered a bona fide bestseller you need to retail five thousand books and the books I sell or distribute from the trunk of my car don't count towards this number. So, retail outlets found it easier to order my book because they were dealing with a wholesaler with whom they regularly did business, plus one by one, the numbers tally up and might just get me closer to that elusive five thousand sales number.
Unfortunately, the royalty rate on sales of your book through expanded distribution stink. In fact, you may as well be traditionally published; your cheques would probably be around the same amount. I'll give you an example. When I sell a $12 print book through normal channels my royalty is $2.94. When it sells through Expanded Distribution my royalty is .34 cents. Yep, that's it. So, it takes a heck of a lot of sales through their Expanded Distribution to earn back the $25. The majority of books I sell are ebooks, the print book market seems to be a totally different business, and I haven't done nearly as well there. Of the few hundred print copies I have sold, most of them were through Amazon's direct channels, and 30% of those were sold through the Expanded channels, so I did make the $25 back after a while.
The numbers quoted don't pertain to overseas sales of print books. When you upload your book and publish it through Createspace, it's important to make sure you tick off the section that will enable your book to be distributed in Amazon Europe also. This is part of their basic deal and doesn't involve the Expanded Distribution feature so it doesn't cost anything, so you may as well do it. When you are on the "Distribute" tab, go to "Channels" and make sure you've checked "Amazon Europe". Both of my books are partially set in the United Kingdom so I have sold some books in the UK as well as other parts of Europe. The payment threshold for Europe and the UK are broken down individually and are separate from the US, so you need to earn one hundred Pounds or one hundred Euros before they'll send you a cheque. I've yet to meet either threshold.
So, even though it takes a little while to make your $25 back from the Expanded Distribution feature I would do it again. One of my projects for this year is to try and get my print books on more shelves in bookstores. As a self-published author this can be a steep hill to climb and if I do find a bookstore willing to sell my books I want to make the process as simple as possible for them. So, if they'd rather order from their regular supplier as opposed to buying books from me, or having me leave them on consignment, the system is already in place for them to go ahead and order my books. So, I'll keep knocking on the doors of bookstores and trying to sell my wares and maybe I'll hit that bestseller list eventually and then the $25 will definitely have been worth it.