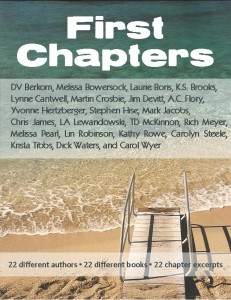 There's been a lot of talk here on IU about anthologies. I mention anthologies as a way to get yourself an Amazon.com Author Central page as newbies break into the authoring industry in this post here. And Lin Robinson wrote a two parter about the benefits of anthologies here.
That got me to thinking – how could authors who are pressed for time and drained of energy – how could they participate in an anthology? How about by sharing works they've already written? What if we could get twenty-two authors together and compile the first chapters of each of their novels? Well, we did. The result is an anthology called First Chapters which features twenty-two former and present Indies Unlimited minions…uh, I mean authors. First Chapters is an introduction to twenty-two cutting-edge indie authors. Some of them are award-winning, some are bestselling, and they all, at one time, joined forces right here at IndiesUnlimited.com. This volume includes a wide array of genres and unique voices.
We're making First Chapters available as an eBook through KDP Select for 90 days. Then we'll put it on Smashwords and mark it down to permanently free. The goal, of course, is not to make money, but to get exposure for all the authors involved. Hopefully this will work! (Of course, if you want to pay the 99 cents I won't try to stop you.)
So brush the dust off of some of your old short stories, grab your writer friends, and compile a low-cost or even free anthology. Why not?
First Chapters will be free on Friday, August 2nd, 2013. You can find it on Amazon.com and Amazon UK.