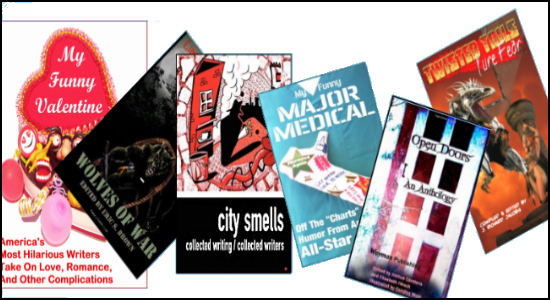 This post is about an under-appreciated form of "platform building" that has a lot more side advantages than the ones you normally hear about. The concept of "platform" has become distorted. Originally it meant that you have a presence or recognition that will fuel sales. You're a famous athlete, a major radio preacher, a business seminar star, a slut who sleeps with politicians: a ready-made brand for your work. I always said that a platform isn't something you do or get, it's who you are.
That concept has gotten watered down (by the same sort of people who say you can "drive" traffic to your website) and come to mean having a blog and twitter and FaceBook page. I think we're all learning that those are handy tools, but neither a panacea nor a Swiss Army Knife.
Fiction writers are told they need to get short stories in "littles" and journals (because that has something to do with selling novels). To guest blog, to blog hop, to peat blog. To enter contests (like those run by my bete noir, Writers Digest.) Put your work on online reading sites like Authonomy or Scibr.
Thing is, though, more experienced writers figure out that really doesn't work very well. Especially paying money for contests with a lightning-hit chance of winning, and really… who cares? Will a win get you a contract?
So what I'm discussing is something that some readers here know I am involved with: anthologies. Collections of stories, poems, jokes, articles, comics, whatever you write: generally assumed to be an assortment by more than one author, perhaps with a central theme. I am going to propose that this is the absolute best way to spend your time in trying to get established as something other than a table rasa newbie or "one SP book wonder". And, as promised, I'll lay out a lot of advantages that pursuing publication in collections offer: far more than the other activities I've mentioned so dismissively. This will be a two-part series: this first one for writers interested in building their "mass", and a second one for people who produce anthologies: an art form that is unique even among other forms of book publishing.
A disclaimer: I recently started groups called "Anthologists" on both LinkedIn and FaceBook. The idea being a sort of workshop and support group for people who produce anthologies, but also a clearing house for writers interested in getting published. It's brand new, and I invite you all to come on down.
Now, about those advantages. A simple one: it's FREE! In fact, you might even get paid. At the very least, you get a comp copy to impress people with. No entry fees here, just submit your stories and see how it goes. Downside, they pass. So you submit to another one, or place the story on the kind of site I mentioned. Or say, "Hey, how hard would it be to just start my own anthology?" (Hint: more trouble than you might suspect, but definitely do-able.)
Upside, your work is now in a book. Cool, huh? Meaning, a listing on amazon.com. Enabling a very important "platform" maneuver—claiming it on your amazon author page. A word on that—I see this as a blue chip plank in a writer's platform. What can you easily do that says "real author" louder than having an author page? About twenty percent of the contributors to our two humor anthologies at MyFunnyBooks had no previous publication, and used their inclusion to initiate an author page. So instead of a typical website or blog address in their email signature or tweets or blogs, they are showing "My Amazon Page", and it's just as fast a shortcut to your buy buttons.
If you already have books out, this swells the ranks. The difference between Indian chiefs and grunts is the number of feathers in their caps.
But beyond that, being in a book is one of the most powerful marketing tools. It's a "license to spam" in many ways—an excuse to pop a link into a forum or mailing that's a little more altruistic than "READ MY DAMN BOOK!", especially if the anthology has some charity or purpose, which many do. The book will often have a YouTube video, another excuse to splash yourself around. But here's the really unique and special thing about collections: they are kind of writers' promotional collectives. Instead of you, all on your little lonesome, hammering in the morning amidst the jungle of competitors, it's 30 or 40 or even 100 writers out there flogging that book. You benefit from the work of others, they benefit from anything you do. We've been lucky to have some demon marketers among our contributors: massively tweeting, posting pictures of themselves with the book at the Erma Bombeck or other conferences or book fairs, getting together for signings in book stores and cafes (the latter a much better place than a store to sign books, by the way.) We allow writers to purchase books from us at straight retail, and some have sold over 100 books from their websites or signings or comedy gigs. And again, whereas they are acting in their own interests, they are helping all the other writers whose name and information will be seen by the buyers.
(A side note: there is a huge difference between allowing writers to buy books and requiring them to. The old dodge of "any dogassed doggerel gets in, but you have to buy 50 books" is something to avoid.)
Less tangible, perhaps, but very real, is that anthologies very often create a community. Some compilers enable this more than others. Our groups, Humor Writers on Linked In and Monkey Business on FaceBook, are a community of over 700 writers. They meet each other, make connections, learn and support. There are "twitter swap" threads and "like swaps". We created a Linked In company for MyFunnyBooks, so people can claim employment links on their profiles. We created our own forum, but it didn't catch on—probably because the social media groups were more useful. But some anthologists have very active communities. I'd invite you to look at the Crooked Cat publishers, a UK group who put my story in a horror collection called FEAR. Smaller and newer, but also generating a lot of cross-connecting and support is E.C. Stilson's Wayman Press, where I just scored with a bent fairy tale in their Open Doors book. I would say that for a new humor writer, our group offers more connectability and opportunity than the usual gathering of "contacts" or "friends". And you see other humor anthologies announcing submission calls there, which is exactly the sort of connecting I'm talking about.
The degree to which any given anthology or press supports that kind of "deep connection" varies a great deal, obviously. But even the most superficial contact allows you a special bond with other contributors. It's like you played on the same team in high school.
Again, if you don't get in, you haven't really lost anything. You still have your story in hand. And you find out quicker than contests and ezines, generally. So how to find anthologies? Big shocker: Google. Just put in "anthology" and "submission" then the keyword you want to get in on: humor, sports, fashion, dogs, trisexuality, whatever you're writing. It's very likely you will find sites with lists of anthologies, like the excellent erotica lists on Erotica Writers and Readers—especially if you add "list" to your search. One of the main hurdles is that there are just so many that it's difficult to sort them out. Not unlike little mags and contests, actually. You end up learning. And one place you learn is from other writers pursuing the same goals.
So, to sum up, instead of fooling around with online mags and contests and snooty journals and crit blogs, why not strike out on a course that leads to significant publication, to a hard-wired platform element, to a collective coterie of writers in your field? Just stay cool, calm… and collected.
[For part two of this article, please click here.]