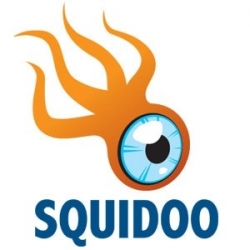 I have a problem. I have recently become an addict. I discovered Squidoo and now I can't leave it alone. Not only is it free and simple to use but it is perfect for driving traffic to your blog/website or author pages. In brief, it gives you more exposure (the virtual variety) and if you want, you can even earn money from it.
It isn't difficult to use, however, you will require some time to set up a good Lens which is essentially a very interesting page, consisting of sections, called modules. (Mine took four days to set up, but I am a slow learner!) You can use Squidoo's templated platform to create a Lens on any topic you'd like. You can create as many Lenses as you want. Once you build your Lens you can publish it to the web. You even get to pick the URL. For example: http://www.squidoo.com/spicing-up-your-life. My other Lens is http://www.squidoo.com/how-to-do-a-successful-book-signing
Benefits of Using Squidoo
There are undoubtedly many benefits of using Squidoo. I wouldn't be talking about it otherwise! There are millions of Squidoo Lenses, many of which can be found at the top of Google searches for their given topic. You should build a Squidoo Lens because: it's free, you can make money through affiliate links and banner ads on Squidoo, it is simple (there are easy tutorials, a wizard and an eBook to assist you) and finally, SEO tools are built-in and easy to use, which allows you to rank higher on search engines for your topic.
A Squidoo Lens is like an excellent blog post. A great post will go viral, attract links and dominate search. There's no difference between creating a quality blog post and a quality Lens. Make your Lens more appealing by adding photographs, videos, infographics and interesting text. Check out existing Lenses relative to your topic to get some ideas.
Building a Lens
Once you get into Squidoo, you are invited to build a Lens. To do so, you need to choose modules which are, as previously mentioned, various sections of a page. You can choose from a huge range of popular subjects or topics such as add an Amazon module, a guestbook comment module, photographs, eBay and more.
Once you load up your page with the modules you wish to include, you will be able to edit each module until you are ready to publish your Lens. It is advisable to include the following modules:
Text box – Add copy, images, and hyperlinks to create the main text areas of your Lens. This module is great for providing copy/information about your topic to your Lens readers.
Link List – Add a list of links to other supporting website that your readers might be interested in.
Guest Book – Allow your Lens readers to leave comments on your lens.
RSS Feed – Add your blog feed to your lens
Poll – Survey your readers
Video – Add videos to your lens! This module supports Revver, Vimeo, Howcast and YouTube.
When you have played about and are satisfied with each module, you will need to add tags to your Lens. Tags are like keywords. Add all of the relevant words and phrases that you think people will be using to search your topic, much as you would when you tag your book on Amazon or Smashwords.
You should save your Lens as a Draft and Preview it. You can take your time over this. You don't need to publish it on the same day. Make any changes so that it looks just right. Be sure you have links throughout your lens to your website or Amazon author page if you don't have a website or blog.
How to Use Squidoo to Increase Website Traffic
Almost all of the modules allow you to either insert copy, which you can then use to link to your website using HTML code, or upload an image, which you can also link to your website. I recommend that you link to your website in the first module, which is a text-based module that everyone uses as their first module. It's a module for explaining what your Lens is all about. It's ideal for this purpose.
There are quite a few ways you can increase traffic and hopefully increase the number of new readers for your books. You can also use the RSS feed module to feed your blog articles into your Lens. You can use the Video module to embed your YouTube videos into your Lens. You can even link to your Facebook and Twitter profiles.
The important thing is that you build a Lens around a topic similar to your website or your writing. Optimize it with keywords related to that topic, make it valuable for your readers, and then hook it up to your website so that you can transfer traffic from search engines like Google and Bing to your Squidoo Lens, and then onto your website.
Finally, I think it's worth advising you to do the following:
Write your Bio & upload photo. Do this purely and simply because it looks more professional and appeals to people in the Squidoo community.
Write lots of good content. Every lens has its own rank on Squidoo, which is based on various factors, like your Squidoo activity, how big and good your lens is, the updates frequency, etc. Lenses with higher rank are more visible, and when people visit your Lens they might mark it as "favourite", giving your Lens some additional links inside Squidoo and a higher page ranking as a result.
Use proper tags. Squidoo uses the tags to choose lenses for "related" boxes, which will link your lens on other similar lenses.
Be sociable. Spend a few minutes a day to go and comment on someone's Lens. Add favourite Lenses that appeal to you. People might visit your profile and do the same for you.
Forum. Participate at a Squidoo forum and add your Lens to your signature. This will grant you some visits of pro-lensmasters.
Directories & Bookmarks. There is a small list of Squidoo specific directories and bookmark systems like Lensroll, Squidom, Squoogle etc. Don't forget to submit your Lens there.
So, why not join me and become a "Squidder", earn money and get more exposure on the internet? If I'm going to hang out on Squidoo all the time, it would be nice to have you join me. Does this sound like it's for you? Then stand by, on August 27, 2013 at 5 a.m. Pacific time, we'll have a step-by-step tutorial showing you just how to get started with Squidoo!