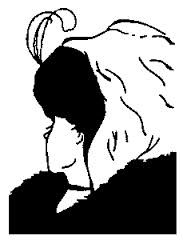 My day job is kicking my butt. Or rather, it is kicking the right side of my brain. After hours filled with schedules and multi-tasking and spreadsheets — oh, the spreadsheets — my creativity is bruised and submerged. I make time to write but the stories won't come. I walk to free my mind and end up solving budget problems. I start to write, anything just to be writing, but the words are all surface babble, self-conscious, and not creative at all. I go to bed in hopes the characters will break free in my dreams, but I fall asleep with visions of spreadsheets lying flat.
The left brain is a big bully, and I'd like to shut it off and bring back my right brain from exile, but the truth is, both sides are always talking to each other. Research from Australia (Pettigrew, 2004) shows that the human brain naturally switches dominance from left to right and back (or logical to sensory, detailed to holistic) about eight or ten times every minute. For mathematicians, this switch rate can be as low as two times per minute, giving their logical brain near full dominance. On the flip side (get it?), Buddhist monks who have spent years practicing meditation can sustain dominance of the sensory brain for several minutes at a time — something most mere mortals cannot do.
Writers don't have the luxury of submitting to one side or the other. The techniques of language are processed by the "left", or logical brain, while flow, voice, and emotion are mainly holistic and sensory ("right" brain). Tapping into flow is a holy grail for writers but we almost have to trick ourselves to do it, to leave the words on the surface while we burrow underneath. Professional musicians and dancers also have a balancing act to do, and research shows that their brain switch rates are twice as frequent as the average person's. Which got me to thinkin': Most of us know that moving around can sometimes get our creative juices flowing, but what if we can make that trigger more reliable?
What if the equation to writer's flow is art minus the burden of language plus the focus of a monk or mathematician?
I am only a social dancer and an amateur musician at best, but still, there has been evidence in my personal past that lends some credence to this formula. For example, I used to swing dance twice a week, and that period of time was also when I started writing stories in earnest. I had never put the two together before, but now it makes sense. Partner dancing, at least for the follower, is a perfect combination of focus and holistic awareness. After you learn the basic steps and are no longer counting (left-brain trigger!), you just sense the music and jive with it. But you also have to concentrate on the leader's touch and where it is telling you to go. There are no words involved.
So I put this formula to an a priori test. I picked a piano piece I have played a hundred times (so I didn't have to think too hard about the notes, a left-brain trigger) and I just let my fingers go, focusing on the dynamics and the emotion I put in and hearing the music that came out. As soon as I felt refreshed and a happy kind of tired, instead of doing something "productive", I immediately read the IU flash fiction prompt and went for a walk to think about it. The characters appeared in my head and started to interact, and I went home and wrote a three-thousand word story, my first one in two months. Bing, bam, boom.
Needless to say, I definitely intend to try this formula again. How about you?
– You say you're too self-conscious to dance in public? Okay, learn a routine from YouTube, then when you have it down pretty well, whenever you are stuck in editor mode or other left-brain bullying, put on some different music and perform the routine in your kitchen. Don't just dance around willy-nilly, though; there has to be focus involved!
– You say you can't play an instrument? Okay, then just listen to music (preferably without lyrics, a left-brain trigger) and zoom into each instrument by itself, hearing it more loudly than all the others. There are a thousand indie musicians who share instrumentals free all over the Internet.
– What about art? You say your repertoire consists of stick figures and smiley faces? Well, in the book entitled Drawing on the Right Side of the Brain (a book I have known about since the third grade but have only just now realized its significance!), one piece of advice is to draw the shadows not the lines. It is not easy to do because your left brain bully prefers lines, and that is exactly what consumes your focus. If you're doing it right, you will lose track of time. (But don't look at the clock; it has numbers on it!)
– None of the above appeal to you? Then pick something from L.A. Lewandowski's article on freeing up your mind. Find one that you basically already know how to do (learning something new requires left brain involvement), then decide how you will focus your attention, trying to stay away from detail, logic, numbers, and linearity.
If all else fails, laugh. You don't have to find something funny, just smile while you huff out deep breaths and contract your stomach muscles in quick succession. You don't have to be coordinated, either; in fact it's better to let your body take over and laugh for real. Let your shoulders join in, and I dare you not to feel good.
But now we're getting dangerously close to yoga and meditation, or possibly hyperventilation, so it is time to end this article.