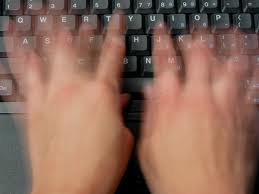 Just this morning, a blogger friend asked an interesting question – are all bloggers writers just because they write [something]?
I side-stepped the heart of the question by talking about how my blogging had improved my writing generally, but I'm not really satisfied with that answer. It was a cop-out, so I thought I'd throw the question out to all the minions – what is a writer?
Clearly, a writer has to write, but does a writer have to publish? I've been writing fiction for almost thirteen years, but for eleven of those years I never let anyone see what I was writing, and I certainly didn't publish anything. Was I a writer during that decade and a bit? I know I didn't feel like a writer, and I didn't call myself one either.
I didn't dare call myself a writer until I'd finally published my first book, but what do we mean by publishing anyway?
Ten years ago, there was only one definition of the word 'publish' – you had to sign a contract with a publishing company, and have your writing appear as spots of ink on dead trees. These days, writers no longer need companies, or trees and ink for that matter. We can publish our work in a digital format, side-stepping tradition completely.
But you see, that is exactly why I'm confused – bloggers use the same digital medium to 'publish' their thoughts as we do. They may use different software, a different format, and a different platform, but in essence, every blog post put out into the public arena has been published.
So why should a blogger's electronic thoughts be of less value than mine? Is it just because I've published a 'book'?
As a blogger of almost two years, I have well over 300 posts to my credit. Add all those words up and they probably total more than the formal words written in my books.
"Ah, but I have spent years coming up with a story, and that's the difference!"
The trouble with that neat distinction is that there are just as many writers who publish fact as there are writers who publish fiction. Thus a blogger ranting about his or her favourite topic is in fact communicating facts as they see them.
"But bloggers are just giving their opinion about those facts!"
True, and we've all learned to take blogging 'facts' with a grain of salt, but even in the most academic of books, there is an element of opinion, or at least, interpretation as well.
"Okay, well bloggers dash off posts without caring about style or grammar or even spelling!"
-laughs- That point doesn't even need a rebuttal.
"Alright. How about this? A real writer tries to communicate something bigger, more universal than just one person's opinion."
Nope, sorry. A writer may aggregate the opinions of a whole lot of people, distilling them into some essence that is greater than its parts, but it is still opinion.
So is there any one trait or characteristic that distinguishes a writer from a 'mere' blogger?
If there is, I haven't found it, and I'm starting to believe that anyone who uses words to communicate, about anything at all, is a writer. Some may be better at it than others, more successful, more popular, more prosperous, but I think we are all writers at heart.
What do you think? Am I being too egalitarian? Have I missed something, or is a writer simply someone who writes?