You may remember my earlier post about setting up my online book launch party, the Friendly Ghost Party, to celebrate the launch of my new novel, Stone's Ghost. At the time, I promised an report on the results, and here it is.
What worked
Contests: Both the (officially unrecognized) ghost photo contest on Facebook and the ghost story contest on my blog had a healthy number of entrants. I realize that most folks don't have very many pictures of ghosts lying around and not all of us have experienced ghost antics, but there were over two dozen pictures posted and as many stories told. There was healthy discussion of both, and we had everything from the creepily serious to the hilariously silly. The winners of the Stone's Ghost Prize Packages were very excited about winning (one said she never wins anything, so I told her she'd have to amend that descriptor now).
Virtual Buffet: The buffet was a big hit. I split the food offerings up among several blogs, so I had the ghost appetizers on my blog, the main dishes were on another, the drinks on a third and the desserts on a fourth. Having links to the recipes was appreciated; I heard from quite a few people who were taking notes for future Halloween parties.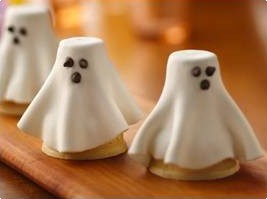 Giveaway: I had a giveaway on Goodreads to correspond with the party, and ultimately had over 550 people registered for the free book. As usual with Goodreads' giveaways, many of the people who entered also put my book on their to-be-read list, which is gratifying.
Spot Prizes: I made a late announcement of a spot prize for guests who visited every blog and left comments on them all. While we had a slight glitch on one (see below), I worked around it and made a couple of spot prize announcements during the day. The response I got was very positive; I think it's important to recognize when people make an effort, and even a small, fun gift was appreciated.
Book Sales: I had lowered the prices of all my e-books to 99 cents for the day, and was happy to hear from many people who bought books, both the new one and some of my back list. While I did not have the success that some friends have had (their book breaking into the top 100, landing on the Movers and Shakers list, etc.), I was gratified by the rise of the book in the overall standings and in its categories. Before the party, my book was at +600,000 in the overall ranking; during the day it did a steady rise.
This from mid-morning: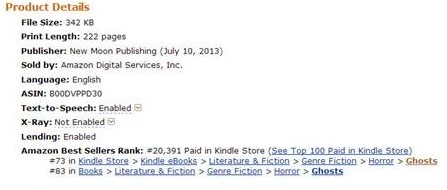 This from the afternoon: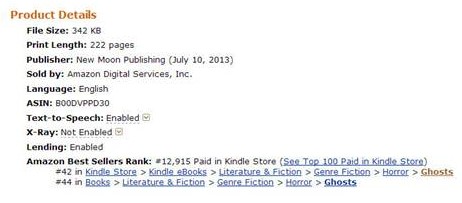 From +600,000 to 20,391 to 12,915 overall was not too shabby for a day's effort. Getting to #42 in my category was nice, as well. In addition, we've all heard how books can skyrocket up the rankings when a promo in going on and how they can fall into the abyss just as quickly (or more so) the next day after the sales stop. I've been happy to notice that, although the sales rank is dropping daily as expected, it's been a slow, steady fall and not the huge drop off. At this writing, I don't have the exact sales figures so can't get any more specific than that.
What didn't work
Technical glitches: We had a slight technical glitch on one blog; visitors could not leave comments. Not to worry, we had plenty of other blogs to comment on, and I adjusted my spot prize to include all the blogs that were working correctly. I specifically asked some people if they'd had trouble commenting on the one (they did), but no one got exercised over it.
Promotion: I realized after the fact that I could have done a better job promoting the party. Like most of us introverted, hermetic writers, I'm not terribly comfortable shouting out, "Look at me! Buy my book!" I had posted an open invitation to the party several places on Facebook, on my blog, my website, on LinkedIn, Goodreads, WANA, and had of course invited all my FB friends. I'm uncomfortable doing anything that feels spammy, so I purposely did not post a ton of reminders. Now I realize that I should have. (Maybe not a ton, but more than I did.) My party was July 26; I had a couple people on July 27 ask, "So when's your party?" Um, yesterday? Obviously not everyone had the date seared into their brain like I did (or even noted on their calendar). I also realized after the fact that I should have posted invitations on more of the FB group sites: Book Junkies, Kindle e-books, etc., which I totally blanked (I admit my brain was pretty well vapor-locked by that point). Although I had a great group that was active and encouraging, I could have welcomed many more, I think.
Lessons Learned
I took a page from Carol Wyer and Janice Horton (How to Party Online) and did my level best to make the party as fun as possible, and I think that is crucial. We all get invitations to book launch events all the time; how many do you remember? Next time you do a launch, make it fun; make it memorable.
And lastly, I learned something from another author about what not to do. Earlier this year, I offered to be part of a blog tour for an author who was releasing a new book. We traded several e-mails getting the content of my blog post hammered out and I duly posted on the day of the blog tour. After that, I heard nothing from her. Zip, nada, zilch. Later I e-mailed her to ask a technical question about one aspect of her blog tour and … never even got a response. Really? Now I certainly don't expect people to bow down and kiss my feet, but common courtesy would be nice. I am hugely grateful to all my co-hosts for their time, their effort, and their encouragement, so I want to give a shout-out to Carol Wyer, Laurie Boris, Yvonne Hertzberger, Carolyn Schriber and Lorraine Reguly. I could not have pulled this off without you.
I also want to thank all the readers who stopped by, who shared pics and stories, who participated in the contests and giveaways and who joined in the discussion at the buffet table. This is one book launch I certainly will not forget.