Dear Santa: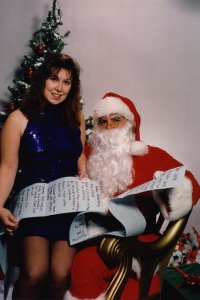 Pay no attention to that menorah behind me. It's nothing more than a fancy candelabra. Honest.
I've been a good girl. Hmmm. Can you be more specific as to the parameters you use to base your "naughty or nice" evaluation? I'm a little sketchy on that.
In any case, I've worked really hard this year. I managed to turn out 4 published titles, and all the marketing/publicity work that goes with them. That's why I've finally given in to writing you this letter. I'm a little tired at this point. So I'm hoping you will be a stand-up kind of jolly dude and bring me what I want for Hanu…kuh…ristmas. Yeah, I meant Christmas. I noticed I'm developing a stutter…I think it's all the stress.
#1. Santa, I'd really like it if all those people who promised me reviews in exchange for a free book would actually post their reviews. To them the book was free, but it wasn't for me. I guess they don't realize that I have to pay for my print copies. And then I have to pay for postage. When all is said and done, it's not an inexpensive venture for me. I think probably other Indie Authors have the same problem, so if you could work your magic for all of us, I'd appreciate it.
#2. I have over 700 friends on Facebook. Only a few of them, unprompted, have posted something like "hey, my friend has written these awesome books – you guys should check them out!" with a link to my Amazon.com page. That kind of thoughtfulness really blew me away. If only 10% of my Facebook friends posted something like that, that'd be nearly 100 people who might be talking about my books. Is that something you could, you know, make happen?
#3. I don't mind giving advice and encouragement to people who have questions about writing. I'm glad to help. But sometimes I feel a little bit used – these people keep coming back over and over again with more and more questions – and I've never even met them. Do you think it would be rude to ask them to purchase my books? I'm really not that kind of salesy, so if you could do some kind of hocus pocus that makes people feel obligated to buy one of my books before they can ask something of me, that'd be super frikkin cool.
#4. I have to know. Does that suit itch? What do you wear under that? Does the red dye bleed into your skin? Is it dry clean only?
#5. I'd like to see authors stop using writers' groups to hard-sell each other. Isn't that like stealing from Peter to give to Paul? Trading books for reviews is one thing. Getting in my face to sell their book is another. That's not how I roll.
I think that's enough for now. How about I let you mull these over for a bit? I'm not sure you want to come down my very narrow chimney, but I'll leave some potato latk…kuh…cookies out for you anyway. Damn, there's that stutter again! We can work on that in my next letter. Meanwhile, if you could hop on this list, and spread the love a little, I know a lot of writers would be grateful.
Your Friend,
K. S. Brooks
*     *     *     *     *
K.S. Brooks is an award-winning author and photographer, and Co-Administrator of Indies Unlimited. For more information, please see the IU Bio page and her web site: http://www.ksbrooks.com/