Today, we get a sneak peek of author Rosanne Dingli's Encore.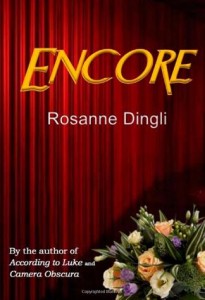 Meant for the mid-life mob (or older) these are atmospheric stories, all themed around music and musical concepts.  The emotional imbalance of couples finding a new kind of compatibility – or otherwise – is explored in these narratives. What happens to relationships when a different tune is played? What happens to the sharpness and newness of the music with the passing of years?
Rosanne Dingli's short fiction has been awarded for its subtle ability to evoke nostalgia and stay in the memory.
Encore is available in print and eBook at Amazon.com and other online stores.
The following excerpt is from a story called "Walking into the Sea", which is in the middle pages of Encore.
WALKING INTO THE SEA
Trailing
When she followed him to the dam, she tried to be quiet. But there was a sharp moment when she knew he realised she was following him. They both proceeded in silence, just as before, just as singly. When he reached the dry hollow where there had once been water, he sat on a fallen tree and started drawing immediately. She knew he was scratching colour together. He rubbed yellow, blue and red in a single whorl. He sharpened pencils with a penknife and rubbed them again. 'You need green. You need red and grey.' Ruth knew he was talking to her, but did not move to acknowledge it. She preserved the individual solitude they brought out there with them. Crouching in the bushes, she felt present and not present. 'Green is the colour of silence,' she whispered. She wanted to be surrounded by green, but the country was burnt, yellow. When she squatted to urinate in the undergrowth she made sure he could hear the soft sound of clothing as she drew up her skirt, and the trickle of liquid.
Longing
When he took out the big map she knew Dave was looking for the sea. They were at least four days from it by car. He looked up at her from the table but her face was lost in the dusk light, which was quickly suffusing and drawing backward out of the kitchen door. Perhaps he saw only her silhouette, Ruth thought, only the outline of her body, black against fading blue of the sky caught in the doorway. 'Rocks, sand, saltbush and the sound of green, blue and white in conflict,' he said. The opposite of music, he said it was. He sharpened a green pencil and drew single blades of windswept vegetation on the line of a dune, on a piece of sugar paper on the kitchen table. 'An endless spread without order, is nature.'  He drew up his shoulders in a movement she saw as decisive and scraped his chair back on the hard floor. 'The sea is too far away,' he grumbled. She ran the kitchen tap so he could hear water and he pushed her away gently, like a child does at the sea's edge, to dip his head under the flow. Wet as a child from the bath, cold and dripping, he nuzzled her breast. 'I am looking for the sea,' he mumbled.