Listen up Fat Boy:
Yeah, you got me.  I did it all:  sat on your lap, wrote you a letter, left you homemade cookies (HOMEMADE!! I don't even bake!) and even farm fresh milk.  Yeah, I sold out.  I did it all so my Christmas wishes would come true.
Christmas morning, I ran down my stairs like a kid.  I jetted to my laptop, powered it on, and….  What?!  No, it couldn't be!  Not even one new review on Amazon.com.  Santa, you had eight books to choose from and you couldn't even get me one bloody review?  So I started thinking, well, this is because I'm Jewish.  Santa's obviously a racist.  Then I calmed myself down and checked the Amazon.com pages of my fellow Indie Authors.  No new reviews for them either.  Hmmm.  Maybe Santa didn't dislike Jews.  Maybe he disliked Indie Authors.
That's okay, I thought, but not really.  My mind was too busy scheming my retaliation.  I would win one for Indie Authors.  Damn right I would.
Okay Santa Baby – see Mrs. Claus here?  That's right, we've got her.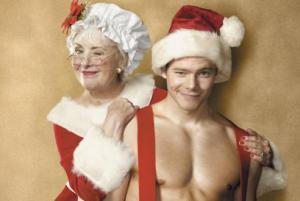 And it seems she's having a pretty good time without you.  You wanna see her back at the North Pole?  This is how I see it.  Indie Authors work constantly.  I, for one, work 15 hours a day 7 days a week on book related stuff.  Your fat ass only works one day a year!  So I figure you have some spare time that you can share with us.  Here are our demands.
INDIE AUTHOR LIST OF DEMANDS
Follow up with all those deadbeats who got our books for free and didn't review them.
Contact book stores and set up signings for us.
Scour page after page of online newspapers and magazines for their contact information.
Contact said newspapers and magazines and try to get feature articles written about us.
Write up press releases, then distribute them to newspapers, magazines, local interest groups, radio stations, television stations and whoever else will take one.
Find contests for book covers, video trailers, and indie book awards so we can submit – but make sure those contests are free because we don't have the budget for those $99 extortionist entry fee venues.
Get certified for therapeutic and deep tissue massage.  We writers sit all day long and frankly, my back hurts.
Locate and set up radio and television interview opportunities.
Learn how to make book video trailers.  I don't have time to make those anymore.
How about baking US cookies for a change?  You need to lose some weight anyway.
That ought to do it.  Meet those demands and we'll get your Missus back to you.
Your Friend,
K. S. Brooks
*     *     *     *     *
K.S. Brooks is an award-winning author and photographer, and Co-Administrator of Indies Unlimited. For more information, please see the IU Bio page and her web site: http://www.ksbrooks.com/