Indie authors understand that being out there on one's own means having to tackle all aspects of book writing, publishing, and promotion. It might seem daunting, it is certainly hard work, and a steep learning curve, but help is available.
Few participants in other industries help each other in the same way that authors pitch in for others like them. The huge helpings of camaraderie and assistance, advice and support, must be seen and felt to be believed.
It's possible to learn enough in a year to be able to write a book and present it to one's readers in a form that satisfies industry standards, simply because so much help is available.
Here are some points that one needs to know:
Editors ain't editors. There are many kinds of editors, and many levels of editing, which range from the strictly cosmetic – such as proofreading for obvious typos – to the intensive and constructive, such as developmental editing. Professional and experienced editors offer different levels, and make clear what you get with each.
Category or genre fiction is easier to sell than general fiction or literary novels, and non-fiction sells much better than novels or collections of short stories. If an author has a qualification that lends weight to a factual book they could write, it provides a better way to make a name than a novel. Moving from there to fiction does not guarantee sales (nothing does) but it beats coming in from the cold.
Understanding Amazon and how it works makes a lot of sense.  Just because it is big and seems to hold a monopoly over book selling, Amazon is not the scary juggernaut some think it is. It's where most readers go to seek books, whether or not they purchase them there, so it's the place for your books to be. Being discoverable is one of the vital aspects of being an indie author.

Lemon tree

Cover design is important, and even if you decide to do it yourself, it makes sense to learn as much as possible about it. Teaching oneself skills is the mainstay of the indie author, so look at as many covers as you can in your genre, and figure out why the bestselling ones work. What makes them good? Learn about typography and graphic art to find out.
It can cost nothing but time to publish your books, they say. There are a few costs, though, that are inevitable, such as paying for wider distribution on the Createspace program run by Amazon. One must also pay to see a physical proof for a paperback, and some non-USA residents sometimes pay fees to have cheques cashed. Whether or not you pay for editing or proofing is up to you and avoidable if you barter.
Marketing and promotions are not two words for the same thing. Learning the difference is vital if you are to seek readers, find them, and entice them to buy your books. A bit of research in this area pays dividends.
Everything in life – including indie publishing – comes down to time or money. One can buy a seedling lemon tree and wait eleven years for lemons… that's time. Or one can buy a mature tree, have it transported to your garden and planted, for instant lemons… that's money. In publishing, it can feel like a struggle for lemons too, but there are ways around things, and plenty of people willing to advise, help, trade tasks, and barter.
When an author writes a helpful blog, shares knowledge, recommends a service or a method, or offers to swap proofreading of a manuscript, it's sometimes more valuable than money.
*  *  *  *  *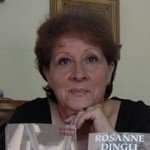 ROSANNE DINGLI owns a lemon tree. Her novels are available as paperbacks and eBooks everywhere good books are sold online. For more about this author, visit her blog and her website.
You may manage your subscription options from your profile.