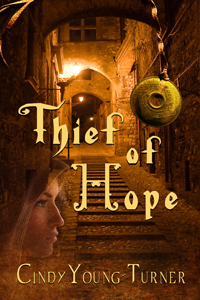 Thief of Hope
by Cindy Young-Turner
Genre: Fantasy
96,000 words
Sydney, a street urchin and pickpocket in the town of Last Hope, has managed to evade the oppressive Guild for years, but there is no escaping fate when she's sentenced to death for associating with the resistance. After she's rescued by a wizard, Sydney is forced to accept that magic—long outlawed throughout the Kingdom of Thanumor—still exists, and the Tuatha, a powerful faery folk, are much more than ancient myth and legend. When the wizard offers a chance to fight the Guild and bring Willem, bastard prince and champion of the Tuatha, to the throne, Sydney embraces the cause as a way to find her own redemption. But Sydney's fear of the Guild, distrust of authority, and surprising connection to the Tuatha threaten Willem's success. Can she untangle the strange threads that entwine her life not only to the fate of the kingdom, but also to Willem himself?
This title is available from Amazon US, Amazon UK, and Barnes and Noble.
Cindy, how did you come up with the title for your book? Does it have any special meaning?
Sydney, the heroine, is a pickpocket and she's from a town called Last Hope. But the book is very much about finding hope, on a personal level for the main character and also on a societal level as people begin to fight for a better way of life.
Who was your favorite character and why?
I like all of my characters, but Sydney is near and dear to my heart. She's a troubled person who wants to do the right thing but doesn't really know how. One of the important elements of the story is how she struggles to overcome the odds stacked against her.
Does your book have any underlying theme, message, or moral?
I think the underlying theme is the importance of being willing to fight for what you believe in. Fighting oppression is a timely topic, as well as something I feel pretty strongly about. The book is also about a search for self, which I hope people can relate to.
What would/could a reader or reviewer say about your writing that shows they "get" you as an author?
I love it when people say that my characters seem real enough to understand and sympathize with them. I want readers to experience the emotions of the story right along with my characters. When people say the villain and the secondary characters are also well developed, I know I've succeeded.
Give us an excerpted quote from your favorite review of this book:
"A lot of fantasies sort of gloss over some of the more unpleasant truths, but 'Thief of Hope' told it like it really could be, and provided a great adventure in the process."
Where can people learn more about your writing?
http://www.cindyyoungturner.com