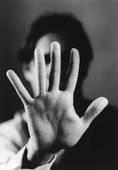 Denied. How would you handle a situation where a post you had written was rejected?
Would you have a hissy fit and act like a spoiled brat? Would you over-analyze the denial, searching for some malevolent, secret motivation as the cause?
Last week the post I wrote for Indies Unlimited was declined. That is why "Spunky's Present to You" was rerun. I wasn't shirking my responsibilities as a contributing author, although coming up with tantalizing topics for you week after week is challenging. I had started writing one post and suddenly gotten a brilliant idea. My epiphany was a religious satire. Rather than stifle the flow of words pouring out of my brain I wrote it, knowing as it took shape that it was a risky piece. I realized when I finished editing it that it would probably not run, but I presented it anyway. The evil mastermind declined.
The reason for the rejection is a simple one. Indies Unlimited is a safe zone. Safe from f-bombs, sex, religion, politics and general nastiness. A heated debate may break out from time to time over the proper use of the semi-colon, but we don't allow academic discussions to deteriorate into personal attacks. There are standards here for what can be posted, and I broke a big rule. I was a naughty girl. It was a risk I needed to take and I admit it felt refreshing.
I was, of course, disappointed that the post did not run. One side of me said: it's a satire for heavens sake, don't people understand satire? Two of my favorite shows on TV are "Family Guy" and "The Colbert Report", both rarely politically correct. I like to laugh even when it ends with a wince. I've always felt if we can't laugh at ourselves and at our core beliefs, we can't grow intellectually. Furthermore, if we don't challenge ourselves and take risks, exposing ourselves to the possibility of failure, we can't improve. As the saying goes, "nothing ventured, nothing gained".
The bottom line is that I'm totally cool with the fact that Stephen Hise didn't run the piece. I respect the high standards he and Kat are maintaining here at Indies Unlimited. And just to show that this was not about censorship, and to emphasize that he is truly an open-minded guy, here is a link to the piece on my blog. I hope you will read it. If you want to discuss the specific topic, please keep those comments on my blog. If an article you've written has ever been declined, please share your thoughts. Cheers!
*     *     *     *     *
L. A. Lewandowski is a Contributing Author for Indies Unlimited and author of the novel, Born To Die – The Montauk Murders. For more information, please see the IU Bio Page and her blog:cultureandcuisineclub.com.