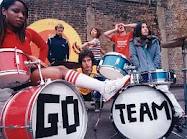 I want to prepare you for something. You might want to sit down. Are you sitting down? There is going to come, in the very near future, a week where you will be forced to reread some of my older posts. I will be in a delivery room freaking out with a big smile on my face.
You'll be OK…no, don't cry. Please. You are embarrassing both of us. Hise, Kat, or Laurie will pick the posts, but that is not what is important. What is important is the epiphany I had last night. Not the one about robot controlled congressmen and the war on terror. That was kind of a half-asleep thing. The real epiphany was as follows.
I was looking through the IU archives, and I didn't remember half my posts. Then I looked at some of my friends' 'back-stock', and it occurred to me, there is (this is a very literary turn of phrase I am about to lay down) a CRAP-LOAD of stuff on here.
I remember when IU was just a few chimps and Hise with his whip. In looking at it now, I realize that I cannot think of ANY other resource for the indie writer that is as helpful as IU. And that's not just team pride talking. I mean it.
If you are a writer, or you know a writer, or you look like a writer and you do not spend some time going back through the old stuff, you are doing yourself a disservice. I'm not going to name names because I will surely forget someone, but there is some great writing and great advice on this site. For reals.
I can't help but wonder what life would have been like if I had access to IU ten years ago when only my closest friends even knew I wrote, and I only showed my stuff to five people.
Point being, it is kind of amazing that this exists. There are great books on writing, for sure, but all of this is free! You can skim through and take what is relevant, separate the wheat from the chaff. And you can feel good about it because everyone on the IU team would like nothing more than to know they helped a fellow writer out.
I don't want to get all 'Kumbaya' on your asses, but I feel very fortunate that I get to write for IU. I feel even more fortunate that I get to benefit from it like everyone else. Everyone has their skills and their weaknesses. IU has the bases covered (in maple syrup even).
So, anyway. The point is that life moves really fast and it is easy to get into 'oh, I'll bookmark that so I can read it later' mode, but this resource is here, 24 hours a day. That's pretty astounding. Use it.
*     *     *     *     *
JD Mader is a Contributing Author for Indies Unlimited and author of the novels 'Joe Cafe' and 'The Biker' – co-author of the mighty 'Bad Book' – and author of the short story collection 'Please, no eyes.'  (available here). For more information, please see the IU Bio page and his blog: www.jdmader.com.