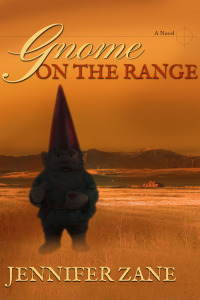 RomCon has awarded Gnome on the Range, the contemporary romance novel by Jennifer Zane, two honors:  2012 Readers' Crown Winner for Best Contemporary Romance, and Best First Book.
Jane West has everything a woman could want. A job in a small Montana town's only adult store, two busy young boys and one dead husband. Everything except a little excitement–a little zing. But that changes one summer morning at a garage sale when her kids buy some garden gnomes.
Now someone wants those gnomes and will let nothing get in their way. Including Jane. This new excitement for Jane spells trouble for a relationship with new neighbor–and hot fireman–Ty Strickland. Can Jane and Ty handle a relationship meddling mother-in-law, crazy kids, and stay alive while trying to solve the mystery of the garden gnomes?
You can read a Sneak Peek of Gnome on the Range here.
Gnome on the Range is available in paperback and electronic editions from Amazon.com. You can see the awards announcement on the RomCon website here.