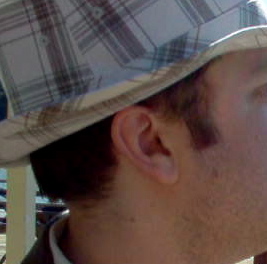 Writers psych themselves out a LOT. Like baseball players, but less fit. I've said before that I don't believe in writer's block, but there are other psych-outs. A certain time of day. A certain place. A certain beverage. A certain amount or kind of noise. A certain…whatever. And it is a fact that it is all bullshit. Here's how I know.
I get ideas and weird inspirations in the shower, while I'm driving, in the middle of the night, mid-conversation…
Now, it stands to reason that if inspiration can strike at any time, then I can write anytime as long as I allow myself to. Meaning, no superstitions. You don't have to tap your cleats
and spit north to write well.
I think the 'throw them in and they'll swim' philosophy works well here. When I was teaching workshops, and when I was working for a newspaper, there were many times when I was forced to write 'outside my zone'. Because, sure, I like to write at certain times more than others. I like relative quiet. I like to be in the same place. But I certainly don't have to be 'in my zone'.
Some of you probably disagree with me, but I would suggest a challenge. Create a time and place/circumstance where writing is going to be "impossible" for you. Then go there and write. And do it again and again until you have proved to yourself that superstitions are like writer kryptonite.
It is six p.m., Saturday evening. This is not the time I want to be writing, but my post is due and so, I do it. You could wake me up in the middle of the night, and I could write something for you. There are no boundaries. That is one of the great things about writing…you can do it anywhere and at any time (within reason).
Our brains are so powerful that they go haywire in interesting ways. I have OCD, so I get the whole agitation and compulsion thing. But I refuse to accept that there is any time of day or night that you couldn't hand me my laptop and get something in return. It might not be my best work. It might.
One of my most popular stories was written in five minutes in a writing workshop. I was censoring a bit for my students, I was at work, I was wearing a tie…in short, it was not 'my zone'. But I did it. And it worked.
Writing is hard. We need to remind each other that we can make it much harder on ourselves, and we MUST NOT. There is no muse, there is no magic formula, that magic feather was a con…you are a writer, therefore, you write. Don't make rules about it. I've been down that road, and it is a dangerous one. I write all day long. Sometimes it is easy, sometimes it is hard. Sometimes I get a squirming in my spine that makes it seem impossible to even sit still, but I cannot invite the opportunity to kneecap myself.
Now, my post is done. I didn't want to write it, but I did. It's not my best, but it will suffice. And now I can get on with my life. In the past, I would have spent three hours wondering whether I should try and 'force' myself to do it and it would have been a miserable goddamn three hours.