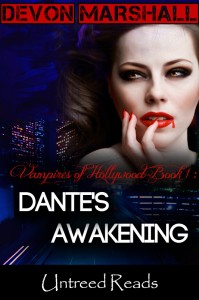 Author Devon Marshall is pleased to announce the release of her romantic thriller, Dante's Awakening.
The first book in a new series, Dante's Awakening follows the (mis)adventures of Dante Sonnier, a successful Hollywood agent and friend to the secret community of vampires living in Los Angeles. When the Children of Judas, a two-thousand-year-old sect of murderous, rebel vampires shunned by their own kind, rise up and threaten to expose the whole community, Dante travels to a small town in upstate California to investigate on the vampire leader's behalf. Just to complicate matters, she is accompanied by Ellis Kovacs, a beautiful, sexy, and thoroughly stubborn vampire determined to seduce Dante…
Dante's Awakening was released in May 2012 by Untreed Reads. It is available on Amazon.com, Amazon UK and Barnes and Noble as an e-book.